Winter nights are long and I decided to whip up a batch of Wafflebutt under controlled conditions as a proof of concept for next summer. Check it out...this recipe is awsome!!!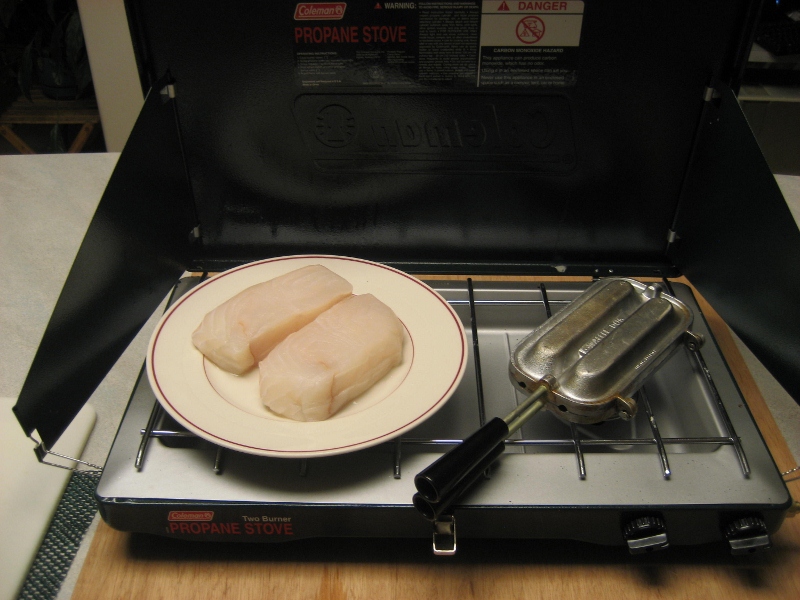 Halibut on a Stick (Waffle-butt):
The River Run Bar in Stanton North Dakota recently held its sixth annual Walleye Cook-off. This recipe is modified for the Waffle Dog Grill from Karen Sailer's recipe for Walleye on a Stick, the second place winner. For camping, dry ingredients can be premeasured, mixed and stored ahead of time in airtight container. Commercial tartar sauce (Ivars is our favorite) can also be substituted.
1 cup all-purpose flour
1 tablespoon lemon-pepper seasoning
½ teaspoon granulated garlic
½ teaspoon baking powder
Kosher salt to taste (1/2 teaspoon)
2 tablespoon vegetable oil
1 cup mayonnaise
1/3 cup sweet pickle relish
Juice of ½ lemon, plus lemon wedges for serving
Freshly ground pepper
1 lb. Halibut fillets
Whisk the flour, lemon-pepper seasoning, granulated garlic, baking powder and ½ teaspoon of salt in bowl. Whisk in 1 tablespoon of vegetable oil, then ½ to ¾ cup ice water to make a smooth batter. Set batter aside to refrigerate for at least 20 minutes.
Meanwhile, make the tartar sauce. Whisk the mayonnaise, pickle relish, lemon juice and salt and pepper to taste in a bowl.
Cut the fish into pieces about 1 by 5 inches. Thread fish on wooden skewer. Salt and pepper generously.
Preheat Waffle-Dog grill on both sides on top of vintage AGM Model 15 stove (Coleman gas or propane stove is acceptable alternative) to 400 degrees. Brush grills lightly with corn oil or spray with PAM. Grill is now ready to use.
Dip the skewers into the batter making sure the fish is well coated. Place coated skewers into oiled and preheated grill. Close lid and bake 2-3 minutes per side. Remove and let cool on paper towel.
Serve Waffle-butt with tartar sauce and lemon wedges on the side.