I found a really simple pizza dough recipe and I thought I would try to use it and make some calzone. We were very happy with the way they turned out. You could fill these with just about anything; we stuffed them with linguica sausage, mushrooms, black olives and provolone cheese. Here is the dough recipe:
Just mix and roll out dough...no need to let it rise
3 cups all-purpose flour
2 teaspoons active dry yeast (room temp)
1 teaspoon salt
1 ½ teaspoons sugar
1 cup warm water (about 110 degrees F)
2 T olive oil
1 teaspoon italian seasoning (optional)
1 teaspoon garlic powder (optional)
(The garlic and Italian seasoning added some nice flavor to an otherwise simple dough)
Combine flour, salt, sugar, yeast and herb seasonings in a large bowl.
Mix in water and oil. If extra moisture is needed, add more warm water, 1 tablespoon at a time.
I divided the dough in two. I rolled each dough ball into a 10" circle.
Topped half of each circle with linguicia, mushrooms, black olives and provolone cheese.
Folded over uncovered half and crimp around the edges with a fork.
Poked 3 small knife holes in the top of each calzone and brushed with a little olive oil.
Plopped them in my 12" DO....here they are ready to bake:
And here they are done: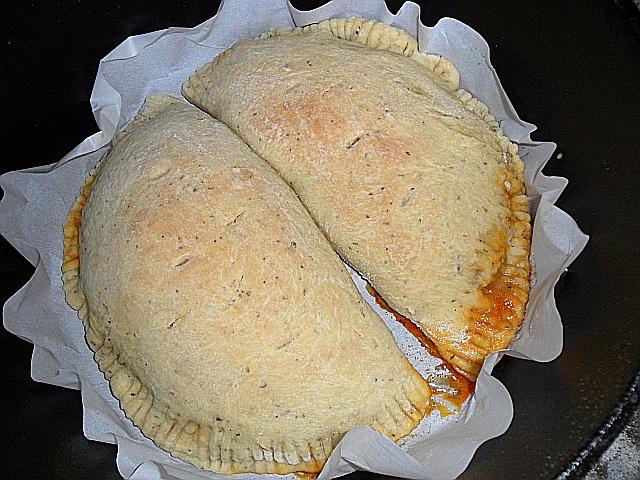 I preheated the dutch oven lid while I was assembling the calzone.
I used 20 briquettes on top and 6 on the bottom. I rotated oven and lid ¼ turn every 10 min. The recipe said 20 to 25 minutes but it took these calzones 45 minutes before the tops were nicely browned.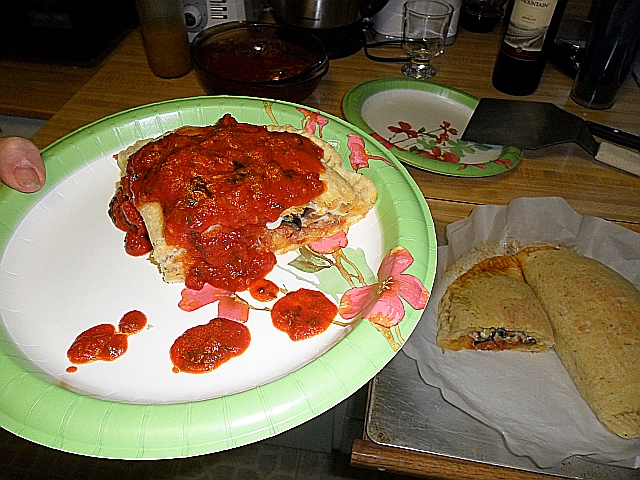 Served up with some marinara sauce on top and some extra marinara in a small bowl for dipping!

Maybe some fresh grated parmasan cheese to top it off (which I forgot)...oh, yeah, and a nice glasss of wine...Buon Appetito!

Richard