SOLD- thanks TNTT!
After using the Nest'r for few years now, we have done what a lot of others do as we age; we've purchased a 'larger' travel trailer. We don't want the Nest'r to become neglected, but we also do not need two campers.
No need to make your own 'standy'; buy this one!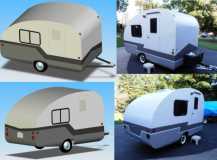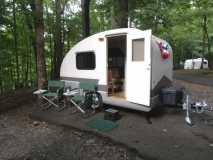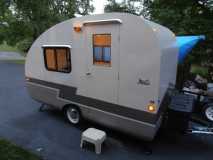 http://www.tnttt.com/gallery/album.php?album_id=1371
Important Features …
Titled , taxed and tagged! YES. So many folks in Tennessee don't bother because it is not required and you have to PAY the property tax in order to tag it the first time. DONE… And it is current.
She's ready to roll anywhere with a 1-7/8" ball. The original Harbor Freight frame came with a 2".
According to calculations; completely empty, it weighs only 750lbs. The original frame kit was rated at 1740lbs (2000 gross) so there's plenty of reserve 'capacity' if you ever need it.
Construction is from 1/8" thick luan ply inside and out on 1x2 pine framing. The frame has been biscuitted and glued with Titebond III at all joints; some critical joints have been pre-drilled and screwed.
This makes it extremely lightweight and very strong. It also allows for easy repair or update.
In the spirit of full disclosure I should mention that there are some soft spots developing in the front-rolled-pan area (not structural) and that there may be a split (check) or two in the luan that the epoxy didn't stop. These would be minor fixes for any Teardropper to repair. I have been repairing minor spots as they occur on an as-needed basis already. You just have to "keep after it", much like owning a wooden boat. Who knows? Maybe she's a candidate for PMF or Aluminum; it's up to you.
Features//Components list:
• Tongue Box – HDPE 'toolbox' mounted on the tongue for gear and battery.
• Sealed, Lead-Acid 18ah 'mini' battery for reduced weight. (Also will accept a standard Battery).
• Tongue Jack
• 4-wire Connector
• (4) crank-down, adjustable 'landing' gear jacks with 4" round landing pads
• Reflectors on all marker and signal lights
• Exterior 'porch' light
• Poly-carbonate tinted window in the door (non-opening)
• (2) Side tinted, tempered, DOT camper side windows with screens
• Matching aluminum drip shields (3)
• Exterior coated with 2-part epoxy w/ 4 coats latex paint.
• Undercoated with Fence Post coating
• Standard interior camper lights (4)
• Separate 'potty' room
• Drop floor (3/4" thick) with 72"+ headroom
• Extra lightweight pine cabinetry; clear polyurethane varnish
• Fantastic Fan/Vent – upgraded with a 'reverse' switch
• Lightweight removable and collapsible dining table
• Convertible dinette makes a QUEEN sized bed
• Furniture grade foam for the dinette cushions
• Vinyl tile for counter top = tough!
• Vinyl tile flooring (easy cleanup)
Specifications:
Max. exterior width ----- 66" (5' - 6")
Max. exterior height ---- 84" (7' - 0")
Max. interior height ---- 72" (6' - 0")
Length of 'body' ------- 126" (10'-6")
Overall length ---------- 164" (13' - 8")
Approx. empty wt. ---- 750 lb (340kg)
Comes with a CD with photo documentation of construction, drawings, etc.
Build thread starts here:
http://www.tnttt.com/viewtopic.php?t=19404&highlight
And continued here:
http://www.tnttt.com/viewtopic.php?f=50&t=41005
Make HER YOUR OWN!
Price: $2700.00
SOLD- thanks TNTT!
---------
Location: Tri-Cities Area - Tennessee