Hello Everyone!
Apologies in advance when I mess up this posting - let me know and I'll try to fix it!
We are selling our family Camp-Inn teardrop trailer, it's a 550 Ultra that we have had since 2012. I believe it is one of the first 100, I asked the amazing guys up at Camp-Inn what the number was last year because I couldn't find it on the title or trailer - but forgot it already! I have it posted on the CampInn forum, with all the pictures I couldn't figure out how to reduce enough to post here

My parents purchased this in 2012 from someone in NC and took it up to WI to Campinn Campout and had it all upgraded and scoped out by it's makers (we have the receipt which details what they did). Unfortunately after a year they were unable to continue using it for health reasons. Then I drove it from AZ to IL and used it for camping in MI a few times - it was stored indoors. Now my sister in CO has it and we are ready to sell it. She does not have the time and it's been stored under an eave next to her house in Denver for the past year. It was fully checked out again in 2017(?) by CampInn, including a small repair to the galley wall/replacing seal. Everything works great except the tv - we couldn't get the DVD to work, not sure why - could be I didn't hook it up right?
I probably am missing something but... it has most options; the sink, propane stove, fancy refrig cooler, A/C, fan, lots of storage, side tent, windows on the front to see the stars, side tables, bumper bar. (I have the VIN/serial number too - just not sure I'm supposed to post it.)
-I will check back here too but you can contact my sister April directly at: amhahn22@yahoo or 303-517-2380 if you are interested in seeing it. Thanks for looking! - LoriCz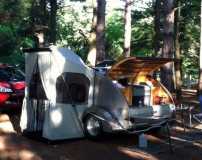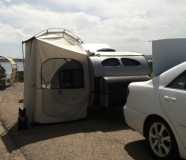 I may post in Denver Craigslist - if I do I will try to add the link.