For some of the TrailTop concepts I've drawn, different radius corner pieces are needed. For example, the TrailDog concept uses both 60-degree and 30-degree corners: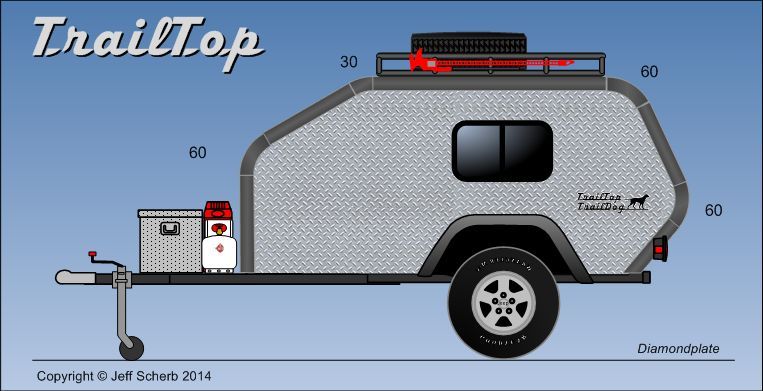 Until now, I haven't made any 30 or 60 degree molds or corners. The other day I was making a few fiberglass parts for another project, so since I was making the fiberglass mess anyway I molded two TrailTop 12" radius 90-degree corners to serve as the mold masters for a 30- and 60-degree parts. Clockwise from top left, here's the process for making a 60-degree corner:
1. The 90-degree part fresh out of the mold, just rough trimmed for now.
2. A 30-degree section to be cut out has been marked with tape.
3. The section is cut out and the halves are test-fit.
4. Once the joint has been cleaned up a bit for fit, the halves are taped together on the outside with masking tape, and joined on the inside with fiberglass. Also in this photo is a 30-degree corner which has already been bonded back together, but awaiting a little body filler to hide the joint.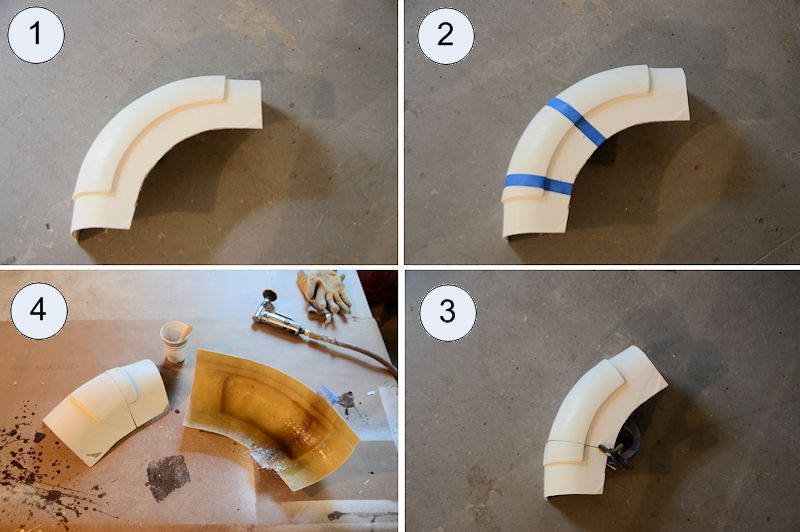 And here are both the new 30- and 60-degree corner masters: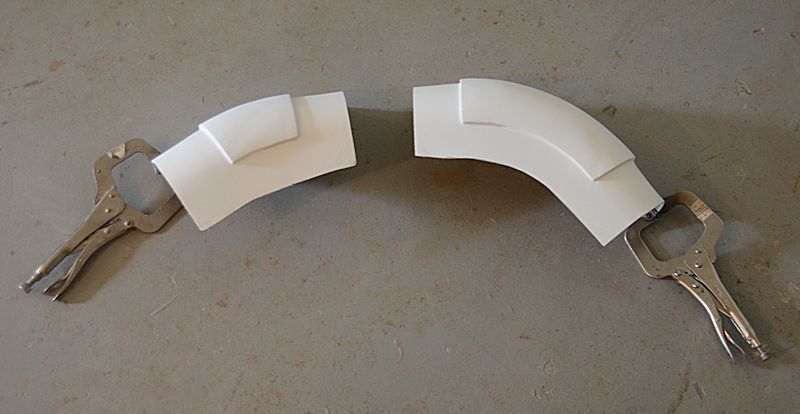 The next step for these parts would be to make a mold so more could be made, but instead of using these new parts to make a mold, for a one-off project the parts could be used as-is - after fiberglassing the two halves of a cut part back together it's plenty strong enough to be used as is, so custom angles or other one-off parts for a special TrailTop design could just be made by modifying stock parts like this.
Also, a curved outer skin would be needed to go around the radii, I've shown those parts in white in this drawing:
I've already made a mold and molded a 90-degree radius skin piece, and that would be used with these shorter angles as well. The curved skin piece would be cut to match the angle, and to replace the joining tab that was be cut off, a piece of 1/4" plywood would be epoxied or bolted in place to form a new tab. In the photo below I've clamped a 60-degree corner to the curved skin piece and marked the cut line; the piece cut off would be 30 degrees, so it would be used to skin a 30-degree corner.