Hey everyone.
2 years ago I dragged a rotten 1990 starcraft pop up home, tore it down to the bare frame, and started building my tear drop from there.
I'd like to replace the axle. For simplicity sake, I'd be fine replacing it with another dexter torsion axle, but would like it to have more capacity (at least 2k lbs).
I'm not sure where to start with this. Etrailer.com doesn't seem to offer this. Anyone have any history / experience with this?
Thanks!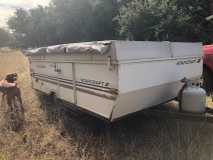 became....
https://www.pinterest.com/mat_hanz/pop- ... 90b7d2fafc