Hello All, I've been a member of the forum since 2007, but haven't posted much in the last couple of years or so. Even so, I check in every so often to see what's going on, or get help with a project (recently used the gas strut calculator to finally add struts to the TD after 10 years use). Anyway, I'm planning an "overland style journey" to the San Juan Mountains in SW Colorado this summer. I've pulled a trailer without brakes through that area once and do not want to have that much fun again! Also, my HF frame will not stand up to the Jeep trails we love. A rooftop tent will allow us to go where we want and easily camp in the back country (also avoiding Covid issues in populated camping areas). The ideal solution is, of course, a full rooftop tent with bed mounting frame for my 4x4 Tacoma (a huge one time expense given that my better half may never agree to travel this way again). So, I've set out to DIY my own bed rails with platform for pitching a decent quality 2 person tent (Eureka Timberline 2). I can then park the entire rig with mounted tent under the Coleman Event Shelter we normally use over the TD making for a very nice back country setup. Savings over the "ideal solution" is over 75%.
Here's a hacker's photoshopped idea of the concept: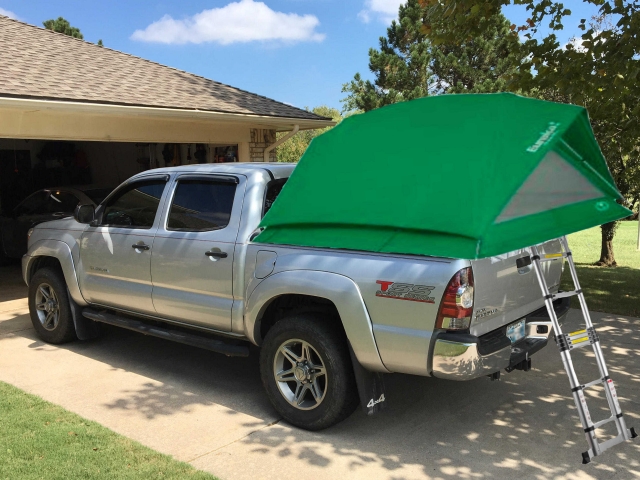 Now for my question(s): When completely unfolded, the platform on the bed rails will overhang the rear of the truck bed by about 24 inches and that area will need to be supported enough to handle at least 175 lbs entering and exiting the front door of the tent. My thought is to leave the tailgate down and build some kind of a structure that sits on the tailgate and supports the overhanging portion of the platform. I'm thinking something like those tubular "bed extender" things they used to offer as an option on downsized pickup trucks, but strong enough to bear the vertical load. This could slide in the truck bed for travel and be pulled out onto the top of the tailgate when ready to set up camp. Primary goals are light weight, easy handling, and quick deployment.
1. Does this sound like a viable idea?
2. Could a PVC pipe structure possibly bare that kind of weight? if so, what diameter and how many vertical members would be enough?
3. Should it a bigger/heavier wood structure.
4. Any other ideas for a solid and safe support? I thought about using the receiver hitch some way, but, I think it might get a lot bigger & more clumsy to haul around.
As always, thanks for all the help over the years,
Mike