Hello everyone. This is my first post here. I have been lurking quite some time, and am happy to have found such a great resource of information and what seems a fairly jolly crowd

I have started my first build, which will not be a teardrop, have a second trailer which is waiting for that

Looking to build a sort of small shed style trailer foam woodie hybrid, 11.5 x 6,1 x 7 LxWxH for the cabin with a sloping roof lenghtwise, like so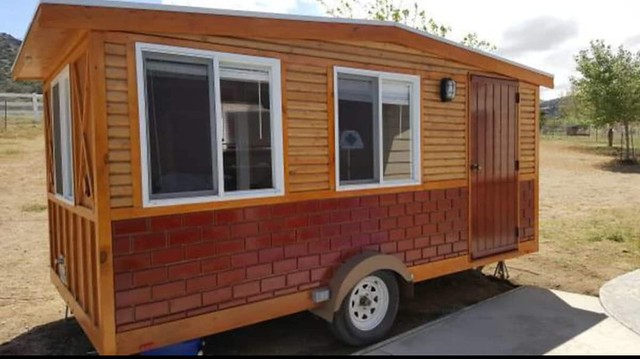 Will be using mainly epoxy for gluing, coating the ply wich is poplar ply, tested in water for a couple of days with drying cycles in between before any coating was done.
I bought an old caravan, yes that is what it is called over here in Belgium
and stripped it to the bare trailer. Glued up a test board for a making the new floor.
I took measures of the old floor, they used 5mm ply (3/16), 40mm (25/16) wood core and styrofoam board. In an attempt to make a lighter trailer, so i can add bit of length i have made a test beam 50mm wide using 30mm (19/16) thick wood core and 4mm (5/32) plywood skins, glued with thickened epoxy. Have already bought the 30mm xps foam board for insulation .
The glued up beam is supprisingly strong, but has a litte bit more flex i feel, over the original. Over a length of 1230cm, about 48,5 inch, there is a deflexion of about half an inch for 175 pounds. Is this acceptable ?
The original floor was 198cm or 6,5 feet wide
Original trailer frame :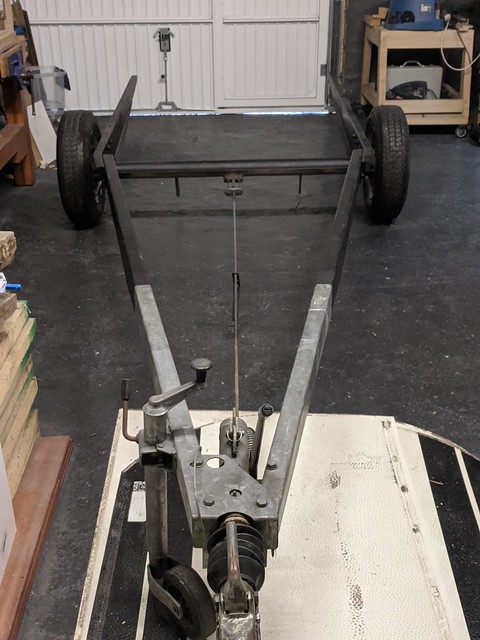 Thanks for any insights.