Hi There,
Would you any of you like to share your Shakedown Knowledge / Maiden Voyage Lessons?
We've just completed a 3,500 kilometre month long trip around France on our new teardrop - here's a link to our build
viewtopic.php?f=50&t=59456
and I thought it would be a good idea to put up a few key lessons I learned …. here goes:
1. I should have tested for leaks. I had big trouble with Fantastic Fan sealing and Hurricane Hinge leaks. I should have tested ofr leaks before I left and tested again just to be sure! Here is my sad running repairs with gaffer tape (that worked OK) that I have to sort out now that I'm home (any suggestions for fixing are welcome):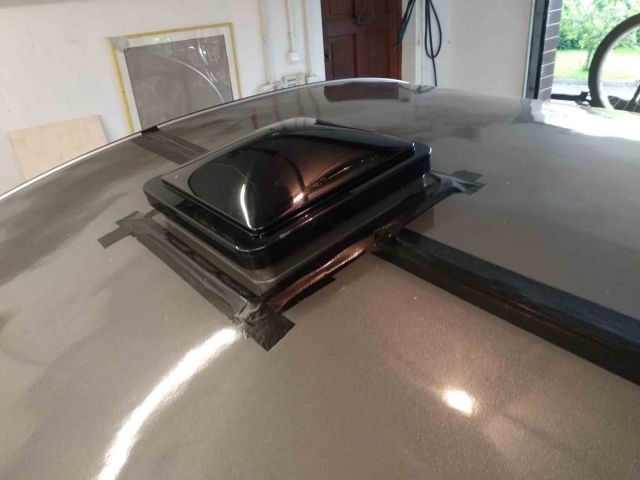 2. I should have expected to travel slowly. I learned that it is better to travel slowly … everything moves much better, it's safer and I got further on a tank of gas – eventually averaging 39 MPG (US).
3. I should have thought more about privacy. One disadvantage of a teardrop I found is that when you open the door in the morning you are "on display". This is not such a big problem if you are boondocking, but we stay in campsites and it is an issue. For my next trip, I plan to buy a 15' Coleman Event tent with three doors and a solid canvas wall and basically park the thing inside of it.
This will have the added benefit of keeping everything drier in the Irish summer rain (see point 1). Here is a sketch-up of what I envisage: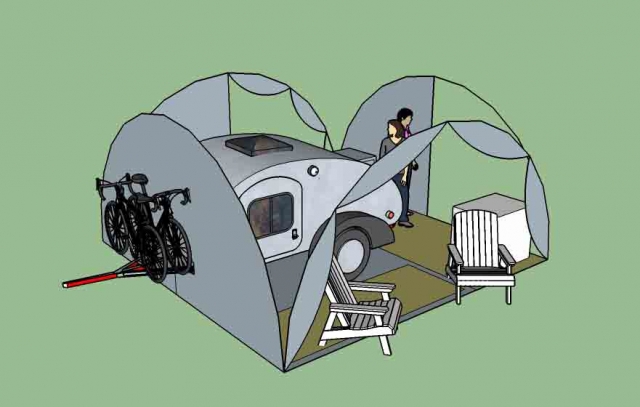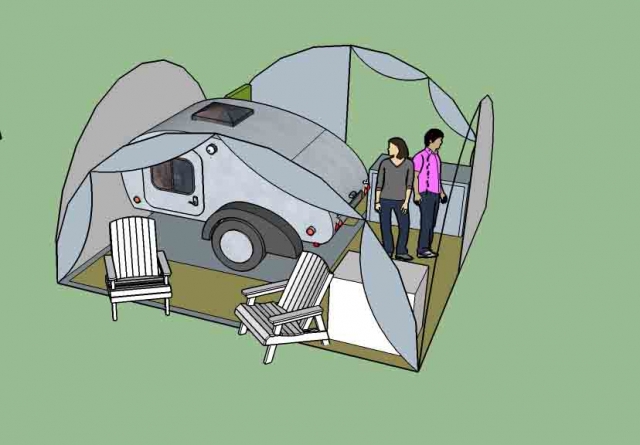 4. I should have organized my car packing better. After a few days of rolling through France on our maiden voyage I found it hard to keep things organized in the car. This problem is compounded by the fact that because of weight restrictions (I can only pull 750kgs in total because the trailer is unbraked … I'm not complaining here … that is what I wanted to do …to build something maintenance free and simple … but it meant that the car was loaded). Sorting this out will need more thought … I'll probably invest in a roof box.
5. I should have just brought stuff that I knew I would use (see point 4!). I brought very little clothes … but only used half of them. I heard a round the world motorcyclist say one time about packing that he tries to "... [bring items that do more than one thing"…that is good advice.
6. I needn't have worried so much about security. I was basically camping in campgrounds so it was all OK.
7. I found that small battery rechargeable LED reading lights and cabin lights work great. They lasted for 3 weeks on one charge and worked great every time.
8. I should have bought a couple of cheap rubber doormats for use outside each door.
9. I should also have brought a pair of rubber "gardening" clogs for the campsite rather than shoes.
10. With regards to cooking and kitchen. My little 9v fridge worked great, I'm going to bring a small icemaker next time (buying bulk ice in France is difficult and gin and tonics without ice are not nice) and I want to bring some kind of electric stove and that I can use on shore power without blowing fuses.
If I had of known some that stuff beforehand I would have had a better time. Since this is the kind of info you can only learn "on the road" I am not beating myself up about it - we had a great time.
The most important thing I brought? ....a roll of gaffa tape

Modification I'd most like to make? ....I'd like to be able to get the fantastic fan running very slowly and silently so we could keep it on all night in hot weather.
Has any body else got some shakedown wisdom they'd like to share?

Regards,
Larry