OK so the idea is something you have made that is not teardrop related.
Today I used a sewing machine for the first time in 30 years.
I made a traditional NZ hunting pack called a Pikau.
Traditionally they were made with a piece of rope and a sugar sack with a stone in each corner..
I made a modern take on it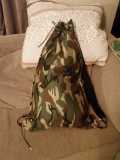 It is polycotton. The straps untie to allow for easy cleaning.
(these are primarily meat packs for hunting)