Like much of the western mountains, the Jemez Mountains of New Mexico have suffered from decades of wildfire suppression and the cessation of commercial logging. However, after years of planning and studies we now have a serious thinning effort underway in the mountains around our property. (We are one of 4 or 5 private landowners who ar surrounded by the Santa fe National Forest. We've thinned our land, most of the neighbors have not... but that is another matter.)
Here are a few pictures we took between Christmas and New Years.
This is an area very close to us. Before the thinning we could not see the slope in the distance. It was a wall of green pines.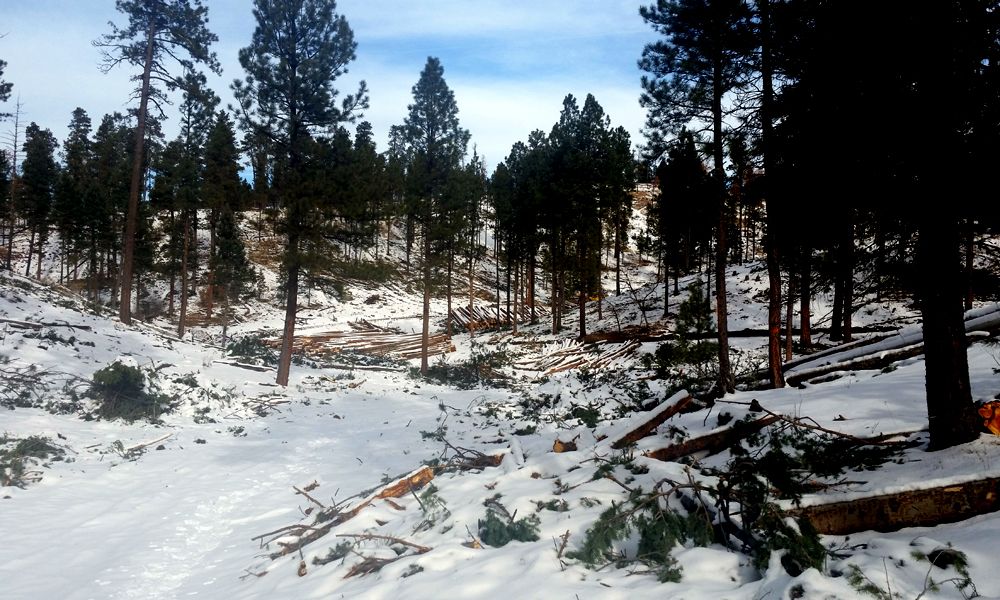 A closer in shot of the central area from the first image. Taken closer and looking to the right down the road that runs up the draw.
Yours truly standing in front of one of the numerous stacks of logs, showing typical range of sizes harvested.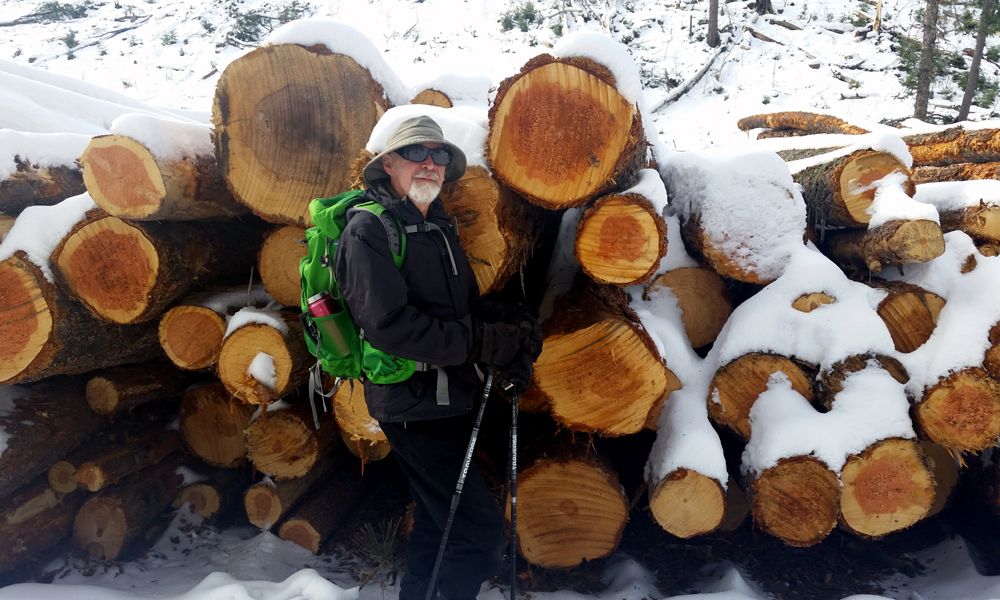 In some places even larger trees have been harvested as well as the smallest and everything in between. The present active contract is for approximately 1200 acres. One day while we were tramping around the woods on our snowshoes we cameacross the forest service fuels specialist. We chatted a while. The project is aimed at reducing the tree density down to 20 to 60 trees per acre, average. That is from a high in many places of 900 to 1000 trees per acre.
Unfortunately there is not a big market for the harvested trees. Mostly the larger trees will become large size posts and beams for custom homes. NM also uses a number of peeled round logs in many custom homes... in the manner that all homes here used to be built. However, when it comes to 2x lumber it is difficult to compete on price with Canadian imports and plantation lumber from the Southern USA. So much of the harvest will end up being gathered for firewood in spring and summer. Once the logs are removed and the slash dry then those piles will be burned next winter.
Then we will see the native grasses regrow. We've already seen more deer than in previous years, all because of the greater visibility through the trees. It is also so cool to be able to see the lay of the land, to be able to seethe slopes and details in the distance. We are thrilled to see the work that has been done so far. This should go a long ways to improve the general health of the forest here.