Hi Everyone,
This thread is to show how I wired my LED puck lights. To see how I made the puck lights, visit this thread.
http://www.tnttt.com/viewtopic.php?t=26695
disclaimer-I have done a lot of guitar wiring work before, and lots of work with soldering, but I am not by any means an electrician. According to the online research I did, I wired this correctly, but since electricity can be dangerous, please be careful, and do plenty of research yourself before trying this. I got a lot of my wiring information here.
http://www.instructables.com/group/LED's!/
LEDs or
L
ight
E
mitting
D
iodes are small lights that provide bright directional light at a cool temp. with low energy consumption.
I used this LED calculator to figure out what resistors I needed to use, and how to wire it up. You need to use a resistor to avoid burning out the LED.
http://led.linear1.org/led.wiz
Here is the diagram I used for 3 LEDs and a 12v power source.
On an LED, there is a bulb or diode with 2 wire legs on the bottom. One leg is positive, and one is negative. Usually the shorter leg is negative, but you can also see that looking at an LED from the top or bottom, one side is cut off, and it is not a full circle. The side that is cut off is the negative.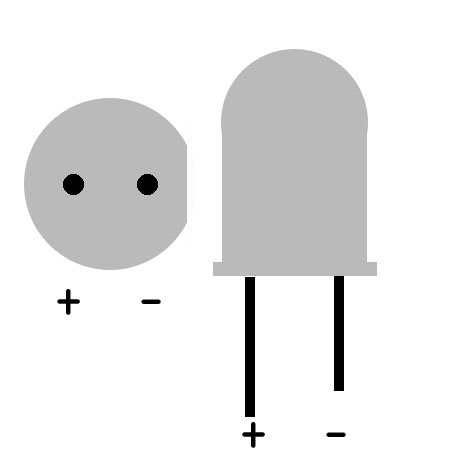 I then laid out the LEDs in the disc I made for them. I marked the positive and negative sides on the disc. I arranged these like this in the picture as a demo. I did not arrange the lights straight across like this on my actual puck lights. I clustered them together to keep the wiring less confusing.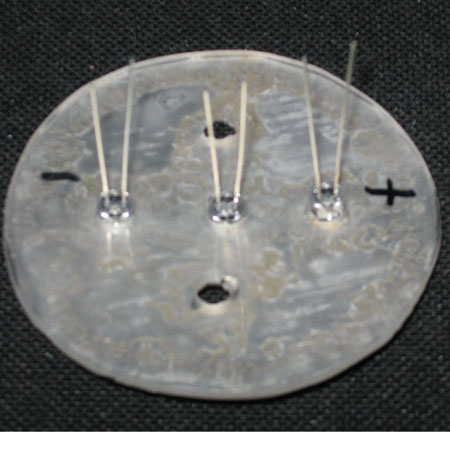 Solder the LEDs together. Positive to Negative leaving a positive leg and a negative leg available at opposite ends of the chain. Then, clip off the excess.
You can see the resistor to the left in the picture. Wire the resistor to the free negative leg. Then you can attach the Negative leg to the Negative post on the battery. I know this is wired for 12v, but for the picture, I used a 9v.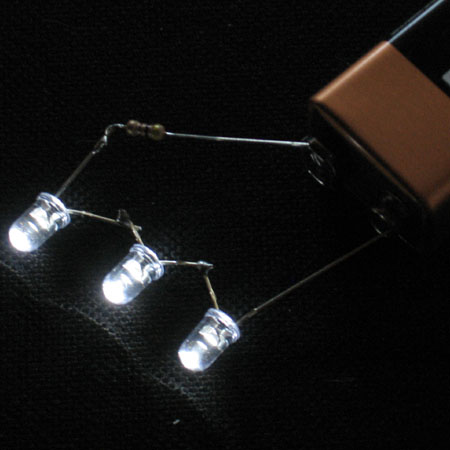 I used a glue gun to cover the bare LED legs so that they would hold the LEDs in place, and avoid shorting each other out.
From this angle, you can see the Positive and Negative leads. The Negative lead is the one with the resistors.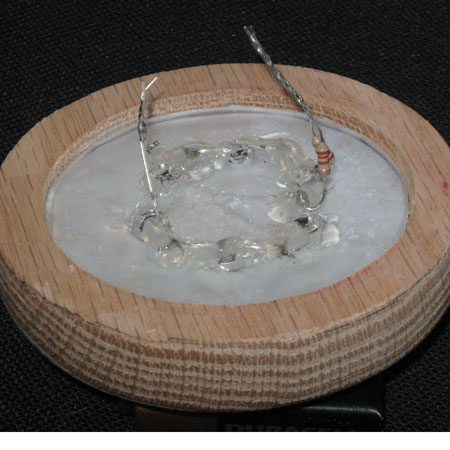 And last, here it is hooked up to a battery, mounted in the housing and lit up. The picture does not do the brightness of it justice.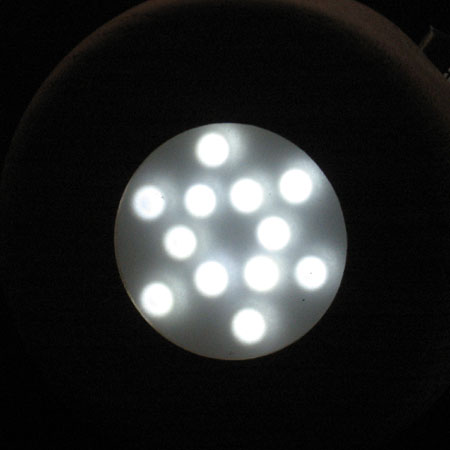 I would be happy to try to answer any questions you may have, and I also welcome corrections if I have made an error.
Thanks,
Don