OTTCT what I did was remove the thermostat from inside the window shaker and ran wires through the outlet hose (the one with out the bilge blower) and into the trailer. You can get away with two wires controlling the thermostat only but I also wanted to be able to turn the AC on and off from inside the trailer. Remember there is a water tight enclosure for the so the AC unit can be in rain with out damage. Otherwise you have to remove the top hose to gain access to the controls.
This is the wires spliced into the AC controls. Note that these are not polarized they are make or brake and you can safely switch them (just don't mix red with black) the two red wires are for the thermostat and the two black wires are for the on off switch. Note that this also followed the color code of the wiring in the AC unit.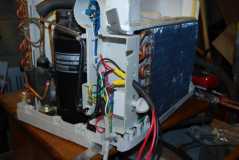 This shows the thermostat and on off switch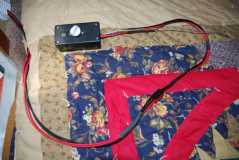 This shows the wires coming out of the AC and note in this picture was taken before I added the bilge blower which meant they were relocated to the top hose (no blower). I used Anderson Power Poles as connectors easy to install and can fit through the louvers inside the trailer.