I've been studying up on wiring, and I could use some help understanding how to decide
which components to group together on a fuse.

Here's how it makes intuitive sense to me to do it: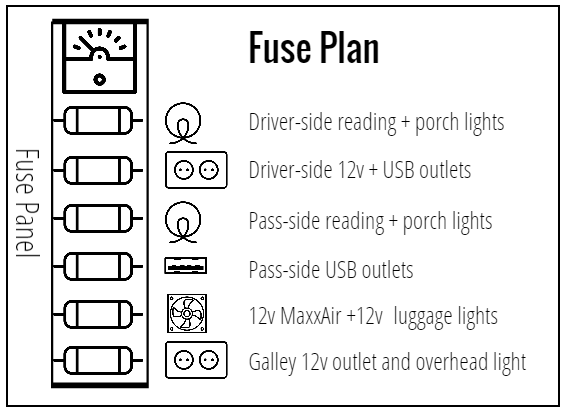 All the stuff that's
physically close together
in the trailer (the passengers'-side porch light and reading light, for example, or the drivers'-side USB and 12v outlets) share a fuse. This way, they can share a wire, which would presumably provide the most efficient use of wire.
But all the wiring diagrams I'm finding don't do it that way. They
group by type
: all reading lights together, all porch lights together, all 12v outlets together, and so on. For example, here's an outtake from my current favorite wiring diagram (
http://chucksteardropbuild.blogspot.com/2012/07/electrical-diagram.html
), and it uses this other approach.
There has to be a reason--why is it better to do it this way? Or does it matter?
Thanks for the help!