Okay, now that I've gotten some advice on the fuse plan (
http://www.tnttt.com/viewtopic.php?f=30&t=66560
) & adjusted appropriately, I'd love some feedback on the overall wiring plan.
Things to note: the colored lines only sort of vaguely represent where the wires will be located in the final system. I'm on the fence about solar (shown in green). If I can manage the other parts without too much pain, I may be emboldened to try solar. Money, of course, is also a factor. I will probably install wires for a 120VAC in the galley, but probably won't actually hook it up. Again, depends on the ease of install of the base system, which is 12v + charger/maintainer/selector + air conditioner.
The "Fuse Panel" box shows the fuse elements in the PD 4045 charger/maintainer/etc.
The "Power Station" box is blown up to show the battery and friends, which will be kept in the galley.
Questions:
Do I have the 120v and 12v master switches in the right places?
Do I have any extraneous or redundant parts?
If I decide against solar, I just omit the solar controller and solar panel, right? Everything else stays the same?
Have I got the arrangement between the solar controller and the charger/maintainer right?
Any red flags?
BIGGER VERSION HERE:
https://s-media-cache-ak0.pinimg.com/originals/ff/ad/c3/ffadc3354fbd63469ac0c9760d38707b.png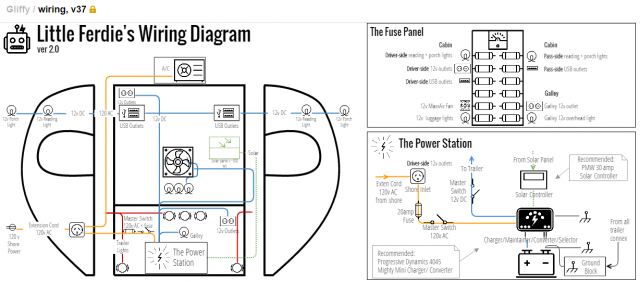 Thank you!!