Inspired by the diagrams done by fellow member, Joanne, I thought I'd take some time to diagram the electrical system on our teardrop.
http://www.tnttt.com/viewtopic.php?f=30&t=1941
I assembled these to aid in future troubleshooting -- but thought I might as well share them here.
Up first is the drawing showing house battery and emergency break away battery. I know some people use their house battery for break-away purposes -- but I didn't want to risk the breakaway switch being tripped and zapping the house battery.
I had a problem initially of the house battery back-feeding to the break away unit (
https://www.amazon.com/Hopkins-20099-Engager-System-Battery/dp/B000CMHVBW
). The solution was to put a diode in front of the house battery. I don't have photos, but essentially the diode will need a heat sync and case to keep it from shorting on things.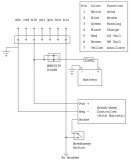 The second diagram is of the standard trailer lights and their mappings to the 7-pin plug.
The third and final diagram is of the electrical loads -- both AC & DC.
I didn't bother showing the Progressive Dynamics integrated fuses or high / low / ground of the AC circuits.
Hopefully these are of use to someone.
Mike