OK, here are the converter and load center I have on hand: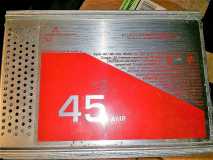 I have no concerns about the converter. It seems to work ok, to the best of my ability to test it. I don't have a convenient way of applying a heavy load to it, but it seems to be working. The load center, I am not as sure about. I really don't have any way to check the breakers, and there is no cover for the housing and I am a little nervous about not covering it. I am not sure how safe I would be making a cover out of wood, so I am not sure how to proceed. I am to the place where I need to start thinking about wiring, and now is the time to buy something if I need it. I plan to do all my wiring with 14ga extension cords. Red jacketed for AC and blue jacketed for DC. I just need to get the load center settled so I can be sure where I am going to put it. I want it in the cabin so if there is a problem at night or when I am inside away from weather, I have the load center inside with me. BTW I am building a slouchy that will have one queen bed and one bunk.
in a 7 X10 cabin.
Thanks in advance for the advice.
Tom