Looking at issue in design. My intention is to have all the DC circuits controlled by a microcontroller eg Ardunio. Being paranoid, I want to have a manual override if the electronic system fails or the software has a bug so that one or more devices are not activated. (BTW this does not address the issue that something is always on. A battery switch will address this )
So here is a simple version. Switch1(s1) is a simple single throw, single pole mechanical switch and switch 2 (s2) is a electro-mechanical latch controlled by the microcontroller. Closing either or both switches will deliver power to the device. If both switches are open, the device is not powered. So each device with have a pair of switches.
Obviously, there can be other switches in each circuit and multiple devices in place of the device. That is a different discussion.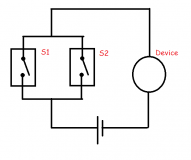 Question: Are there any issues with this?
Continuing with my overdesign....
The other issue has to do with something like using either the towing vehicle OR the trailer to power the reverse/backup lights on the trailer. The major differences in this case are: two different batteries, conceivably two different grounds (they should be connected together). The towing vehicles 7 pin cable will provide the switched power for the reverse lights. The trailer battery will provide power from the trailer. This circuit has diodes to isolate the two systems so turning on the reverse lights from one system does not power up any other devices in the other vehicle. Without the diodes, it is possible that putting the power to one system could power devices in the other system.
Are the diodes needed/recommended? Other than cost is there any drawback to this design?
Thinking more about this, some people design the trailer charging system that is just directly connected to the towing battery ( with maybe an isolating switch and some fuses hopefully ). I am guessing this could have the same issues if the systems are not isolated.