m.glisson003 wrote:There has to be an easier way
... but it's a little more complicated at first.
Here's the charge while towing / AC transfer system on my tear. I didn't use a PDC or other power center. When I boondock, I'm on DC only. A 115VAC relay acts as an automatic transfer switch.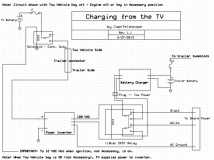 Most any Double Pole Double Throw (DPDT) relay with a 115VAC coil will do. Connect the inverter output to the Normally Open contacts and the relay coil. Connect the shore power input to the Normally Closed contacts. Finally, connect the "switching" contacts to an outlet. Plug the charger, fridge (and whatever else gets 115VAC while towing) into the outlet. Now, the inverter will supply whatever is connected from the inverter (if it's running) or shore power will take over when the inverter is off. Without shore power or inverter tow power, turn on the inverter in the Power Center, otherwise you're on DC only.
Size your inverter to handle the charger and whatever else gets AC while towing.
All this is thoroughly cussed and discussed in the
"Charging While Towing"
thread. Refer to the diagram above, rather than the one at the linky.
HTH.