This project was probably overkill but it was a slow weekend. I had a power supply from an old computer that I had disassembled so I decided to make a portable 12V DC power supply for use around my shop. I had used a similar power supply for the 12V DC internal system in my recent pop-up project for interior lighting and the overhead fan. All the materials used in this little project were stuff that I had laying around the shop and I did not buy a single item to make it. My primary use for this power supply will be for checking trailer lights when it's not convenient to hook up the TV. I can also use it to check bulbs and other DC gadgets before I actually install them.
I started by making a frame using 1X2 scraps and some Kreg Jig pocket screws.
The computer power supply has a bunch of wires with different DC voltages. I connected all the yellow 12 volt wires to a single 10 ga wire and all but one of the black ground wires to a single 10 ga wire. When all the yellow wires are connected, they make a total of 14 amps. All the other wires were stubbed and taped. There is a single green wire that turns the power supply on and I connected it to one of the ground wires so that it is turned on continuously with no switch anytime the external AC cord is plugged in.
The two side walls were made of 3/16" plywood and painted with Rustoleum hammered silver (just for looks).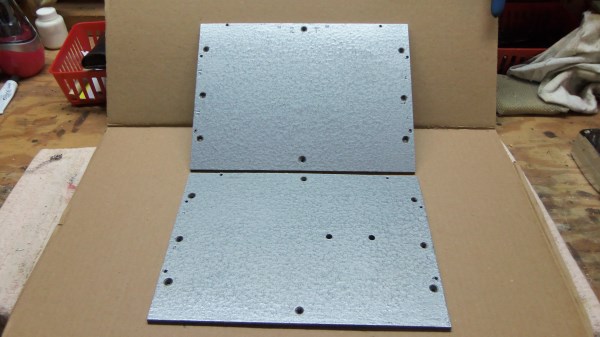 The top and ends were formed from a single piece of gutter guard to provide ventilation for the power supply fan. Note the hole for the external AC power cord. The edges of the hole were trimmed out with small pieces of plastic tubing (doesn't show in the pics).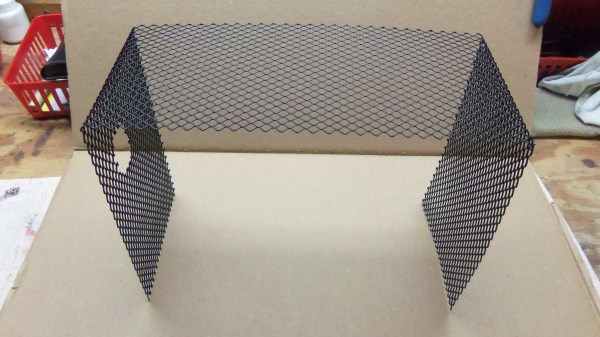 The power supply fits snugly into the wood frame and is held in place by two small metal brackets.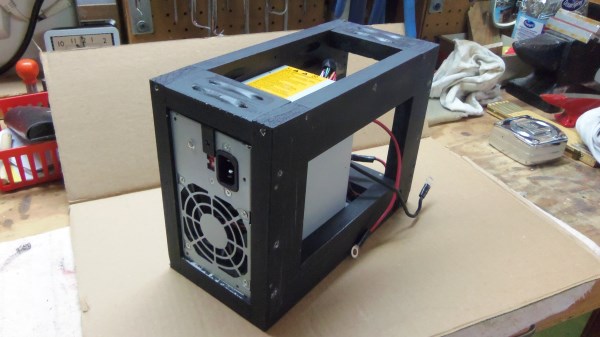 Small aluminum angle was used to cover all the corners and four rubber grommets provide feet for the box.
The two power posts are 1/4" bolts with some red and black plumbing washers and wing nuts to hold the wire leads.
The black and red wire leads have an open spade lug on one end and an alligator clip on the other.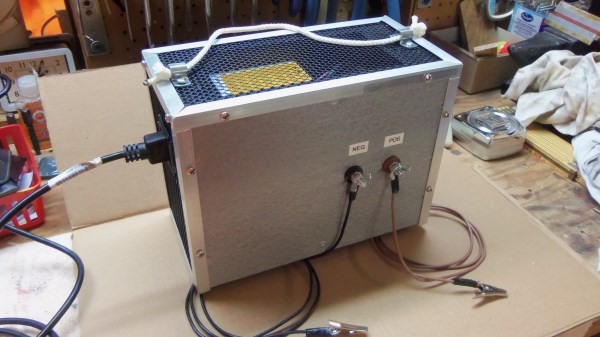 The handle is a short piece of rope with knots running through two barrel bolt latches.
The external AC power cord and the two DC leads simply roll up and hang from one of the barrel bolt latches with a small bungee cord for storage.