I recently took a camping trip and discovered that my 12 volt refrigerator by battery alone could not make the long weekend. To me it was impressive that it made 30 hours, but that was only half of the time I needed the refrigerator to stay cold.
I have been considering the idea of going solar for a long time, but this put me over the edge as I would like to take more long weekend camping trips.
I have ordered a 100 watt solar panel with pretty much all of the needed accessories from Renogy.
I am planning on installing my solar panel to my already in place Thule roof rack, even though I don't know exactly how this will go together. I at least know the basic location it will end up.
What has me more concerned however is the how and where of my charge controller installation. I thought I had a good idea just prior to purchase, but as more facts are presenting themselves it is bringing more doubts.
My main battle is in the determination of whether to install this inside or outside of my camper as each method has it's pro's and cons. My charge controller will not be waterproof. This will be installed on a Little Guy trailer.
Here are my thoughts on each placement.
EXTERNAL: This would have the advantage of not having to drill holes in the trailer itself. The disadvantages I see is that the charge controller is not waterproof and it needs clearance on top and bottom so plopping it into my battery box is out. Also there would need to be a lot of solar wire exposed from the top of the trailer down to the battery.
INTERNAL: The advantages here might be that there would be less wire exposed. The controller could be well ventilated. One big issue I might see is how cramped this might be in the trailer given the limited areas that this would even fit. Then I am concerned about the best approach to take with the wire leading from the controller to the battery. I really like the idea of having a raised and accessible panel for hiding wires but this would take up even more space than doing a normal flat mount.
Below is a picture of inside of the camper. You will see a couple rectangles that I added to show basic location of a raised panel and the charge controller that would be on this. Right now I am not thinking of adding an inverter, but perhaps I might want to provide enough space for it to be added later. I have placed this on the right side of the door as there are swinging cabinet doors that might incur a limited range on the left side. Even though it is superficial the right side placement would also have a little shorter cable run.
If I placed my controller towards the front tongue I am not certain how I would place it. I have considered either replacing out the existing utility box or adding a box that I could mount stationary to house the controller. There isn't a whole lot of room. Perhaps a superior external solution could be found, but it might take a lot of work or money to do.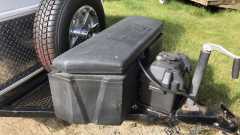 I have a few days before the shipment arrives and am hoping to come up with a good solution before summer slips away.
Perhaps someone might have an idea that could point me in the right direction. In searching the web I am finding scant information on installing a charge controller in a teardrop trailer.