There's another thread currently running about extensions for towing. Not wanting to hijack another thread, I'll ask my question here. In this picture from my gallery, you can see that my truck is too high for proper alignment with my trailer.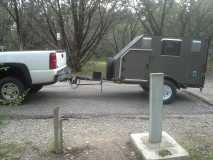 I'd like to drop it about 8", without having to buy another
Weight
Distributing shank. The one I currently use is perfect for my wife's 20ft Palomino Puma QB trailer, and for my 18ft car hauler. I can't get any more drop from it, nor do I want to switch heights on a regular basis. I've spotted a possible quick-change adapter solution. There are hi-low adapters made for leveling towed cars (behind motorhomes), but the adverts warn "not for trailers" . If you examine this photo, the hi low seems better constructed than some spindly straight extensions I've seen, and the 140lb tongue
weight
(even with the added force of the WD spring bar attachment) of my trailer shouldn't even be close to the 400lb tongue
weight
this hi low is rated for. The question is : has anyone tried this before, and with what results? I may not need that much more drop; I think 6" might be perfect, and thus less stress would be generated on it as well. I'm not a structural engineer, but a shade-tree mechanic. ????