I bought this TD used locally and had it on out second outing this past weekend. Once back at home I found the curb side tire has a brown ring around it along the edge of the tread. Our first trip was about 250 miles out and I checked everything out at hour intervals (give or take) and only noticed that the wheels are a little hot. I could hold my hand on them (rubber, steel, wherever) but seemed hotter than I thought they would be. This last trip was an hour out and hour back. Travel speeds are up 65mph.
I believe the trailer and stuff in it weigh about 900 lbs. I'd like to get it weighed.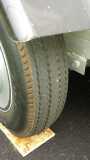 Any thoughts on this ? I have wheel bearing repack on my winter project list but everything feels solid and it apeared this TD was used gently by the previous owners so I'm not too worried about wear and tear. This tire thing is new to me.