This is what my 5x8 H&H comes decked with: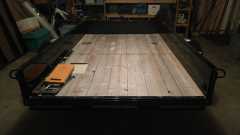 [Edit to the weights involved.]
First, some background. This is a walled trailer, and the walls are structural. That's fine, because I want that storage underneath. I'll build the true deck on top of the wall, and canti it out 6" to give me a 6' wide bed. I need that width because I'm bunking my daughter cross-wise (this is a 2+1 sleeper) and I want to be able to use this trailer for more than two years.

So, I've taken possession of this lil guy, I've removed the ramp (and over a hundred pounds of uselessness), and am faced with this decking: over 200 pounds, I estimate, of pressure treated, 2x8 pine. The problem is that it's overkill, it's heavy, and it will need to be weather proofed to keep my storage area dry.
So, I can either...
A – keep the decking, roofing tar the heck out of the bottom, and caulk the cracks on the top to keep the box relatively (if not positively) dry.
or
B – remove the 2x8 and replace it with PT, 3/4", T&G ply, and roofing tar the heck out of that.
The benefits of A are that it's easier, quicker, cheaper.
The benefits of B are that I'll save about 110 pounds*, get a cleaner, weather proofer storage deck, and gain some elegance points.
The downside of B is the 3-4 hours of extra work, and extra expense.
Should I settle with what His Noodley Appendage has provided me, or would this be the first of many compromises that will eventually eat away at my soul?
I'm inclined to keep the 2x8 deck and make do. 110 pounds vs. 4 hours.
* a deck of 2x8 PT pine is about 200-220 pounds. It's very dry. A sheet of 3/4" ply is about 75 pounds (oh, how I hate talking pounds!) But 5/8 of 150# is 95#, say, so I'll actually be saving 111-123# in total. Forgot I wasn't using a whole sheet, doh!