Presumably, many of you who went the route of buying a trailer kit for your build ended up with the common but often less favoured slipper springs, instead of the double eye springs. Slipper springs are cheaper, (barely) lighter, and help keep your frame a couple inches closer to the ground, but the slip side of the spring normally rides metal on metal, and has a lot of slop between the top plate and the bolt that keeps it in place; resulting in a squeaky, rattling trailer.
If your rattling springs bother you (like it does me) you can replace them with a double eye system, like this clever fellow details on tventuring.com:

https://tventuring.com/trailerforum/thread-216.html
But if you want to do it on the cheap, you can try using some UHMW (ultra-high-molecular-weight polyethylene) under your springs like I did.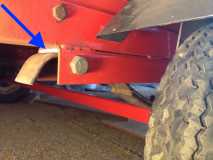 UHMW is a super durable, dense plastic, that works well as a bearing in metal-on-metal situations. Have you ever seen those white plastic plates they put on 5th wheel hitches in lieu of grease? That's UHMW. In this application, the UHMW serves 2 purposes: To provide a slick surface for the spring to slide on, and to fill in some of that excessive gap between the top plate and the bolt that keeps it in place. My springs had 3/16" extra gap, so a few pieces of 1/8" UHMW about the size of credit cards was all I needed. (You can get way more than you need of this stuff for less than $10 online, like here on amazon:
https://www.amazon.com/dp/B000ILLNIY/ref=biss_dp_t_asn
)
UHMW doesn't respond well to almost any form of adhesive, so mechanical means of mounting (e.g. bolts) is the best way to go. I drilled 3 holes through one side of the UHMW and through the trailer frame, and bolted it up so that the other side sat directly where the slipper spring made contact with the frame.
I wasn't sure if there was going to be enough clearance when I bolted it up, but I think there's just enough room to avoid binding. If you try this and find that the clearances are too tight, just take a file to the bolt holes to drop the bolt down a little lower.
Just a clever little trick I thought some of you might be interested in.