Does anyone know what the appropriate "rake" is on the tongue of an old Kit Kamper teardrop? While taking frame measurements for a new axle, I noticed the tongue is raked "upwards" and I wonder if at some point, the tubes on the tongue were bent either due to overloading or damage? A lot of pictures of Kits do show the curve in the tongue but the couplers look level with the frame.
Here the frame rails are close to level, but you can see the tongue and coupler is at about 10 degree angle upwards after the bend in the tongue tubes. The tongue jack follows that angle too since it's welded to the coupler end.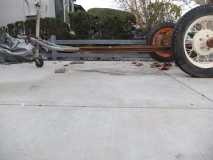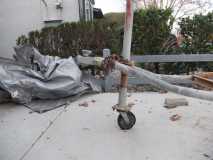 Hard to see with the paint chipping and rust but the bend on the tongue does have some ripples in it. If anyone has a good condition stock or original KIT i'd be curious to compare to see if the tongues are the same or if mine does have some major damage.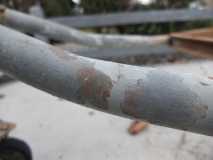 (also the coupler is cracked, of course

) Trying to decide whether to weld up the coupler cracks and put on a new tongue jack, or get a VW towbar and make a whole new tongue.