My trailer is 64w x 9'-8" long with galley. I used 2x2x1/8 for mains and rear xmbr, 1-1/2x1-1/2x1/8 L for middle xmbrs, and 2x2x3/16 for 'A'-frame tongue and front xmbr.
No regrets so far.
I did the 3500lbs axle with big spindles, bearings and brakes, using
Ruff Stuff suspension components
and Jeep YJ leaf springs rated at 1750 lbs. I added the
shorty Monroe trailer shocks
and
Energy Suspension bump stops
(kind of wish I had gone with longer shocks that better match the available spring travel, but packaging it under a flat floor was already a bit of a challenge w/o laying the shocks inward). Note the extra gussets on the spring mount; the mounts are flush to the outside, offset to the inside.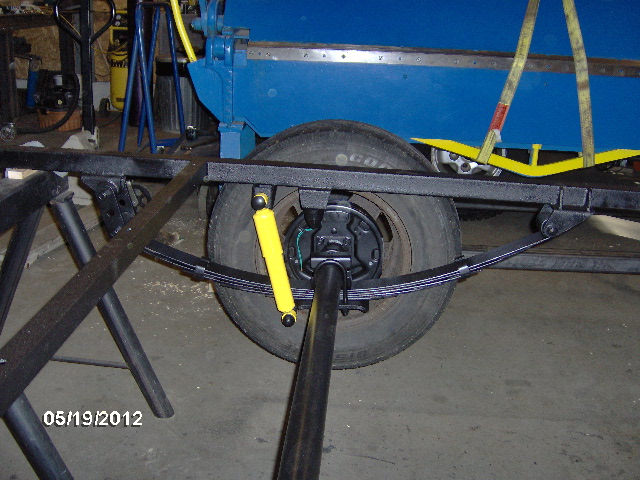 The big axle would probably be overkill for a no galley camper, but then again... depends on where you want to go and how badly you don't want to get 'broke down' when you get there.
I figure the extra weight down low will help lower the cg and if anything breaks it will be a leaf spring (trail fixable). Just be sure that you build in enough dampening and control to handle the weight of the axle articulating. You can't just stick all of that extra weight under a suspension that was designed for a spindly little axle, with shorty light weight springs.