Snagged an old pop up frame. Lots of surface rust, nothing deep.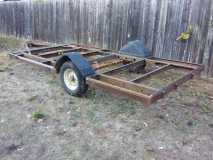 I remember all the sand, sand, sanding, grinding etc I did on the Sunhopper.
As I looked into alternatives to this masochistic endeavour, I came across Corroseal and thought, 'give it a shot'.
Well, I'm impressed....the stuff turns iron oxide into magnetite and the results are pretty darn good.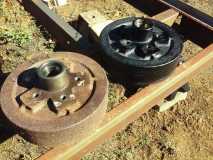 It doesn't work if the all the rust is removed. Just remove flaky or scaly rust, I then used a bit of sandpaper to get in crannies then blew it off and wiped with denatured alcohol. You paint a thick coat on...(it looks like Elmers glue) ..I used a brush, could use a roller, they don't advise spraying it or diluting and let dry 24 hr.
They say you can use primer over and paint (they recommend oil base). I'm going to spray Rustoleum I think.
I think this has great potential....at least it does...for me.

Richard