I've been busy learning Ironcad! Here are my first renderings. This one I hope will be a common scene - having just pulled up in the driveway after a fun-filled trip with our tear...
This shows a cut-away view of the tear inside. It's very simple - a bunk for our 5-year old in place of cabinetry, and just shelves in the galley...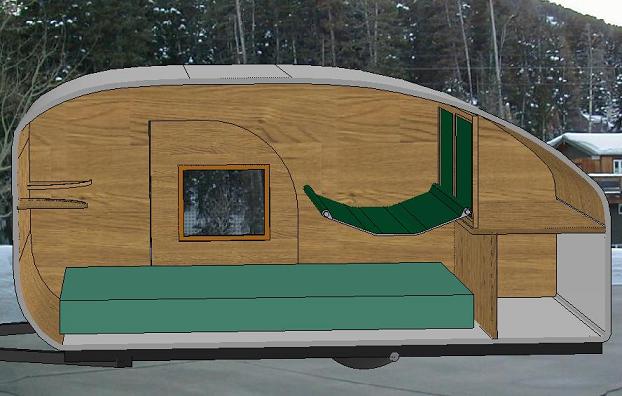 Note the upper bulkhead is not skinned with wood; the green rectangles are fabric flaps that snap in place. Since we have no cabinetry, the intent is to store our clothes bags on the galley counter so we can access them from inside the tear. They'll get moved to the cabin when we want to do some cooking. There are quarter-circle shelves in the corners at the head of the trailer for keys, glasses and other small things. These renderings don't show the details like the Fantastic Fan and lights. Nor does it show the dropped footwell and table. Maybe I'll attempt that next.

I'm thinking the walls are 1/4" outside skin and 1/8" inside skin enclosing 3/4" framing and insulation. I like the idea of creating the framing out of 3/4" plywood and ample use of a jigsaw, as did Nitetimes and Lindsay. The roof is skinned like the walls, but with 1.5" spars and insulation. I'm planning on white Uniflex for the exterior. The whole thing sits on a custom-built 5x8 frame (done professionally).
Another thought (not shown in the renderings) is to put one or two windows in the tear front on the flat part of the profile. Would I have to worry about rocks flying up and hitting them, or would they be high enough to avoid problems?
And this one is a long shot, but I'm trying to think ahead - my son won't always be able to fit on a 5' bunk, so I'm thinking of framing in a place on one sidewall for a swing-up door that may someday accommodate a foot-sized slideout. I also think that by the time he's that tall, he may not want to be anywhere near his parents, hence just frame it in for now, since we may never actually need it.
I look forward to your comments!
Jeanette