Hello all, my name is Mike and I'm located between Denver and Boulder in Colorado. I'm a designer / engineer for the furniture industry and use SolidWorks CAD software every day for my job.
I had a Coleman Colorado popup tent trailer for a short time but didn't like the bed size or soft top construction. I like the idea of the teardrop but wanted somewhere to stand. I'm willing to give up the rear galley for some space, and move the kitchen to the side.
My idea seems original, I designed it from scratch but after further research find that it has similarities to the other designs. It has a hinged drop floor like the Gypsy King Folding Travel Trailer, but uses cable stays instead of legs to support the floor. The lifting gate element is like many squarish back teardrops. I did steal the rear door / folding support from the Kampmaster. At first it didn't have a side teardrop style door, just the rear door. Then I realized it could be used without opening up the back, if it had the side door.
Left rear isometric in open position, left hand tent and left side of box removed.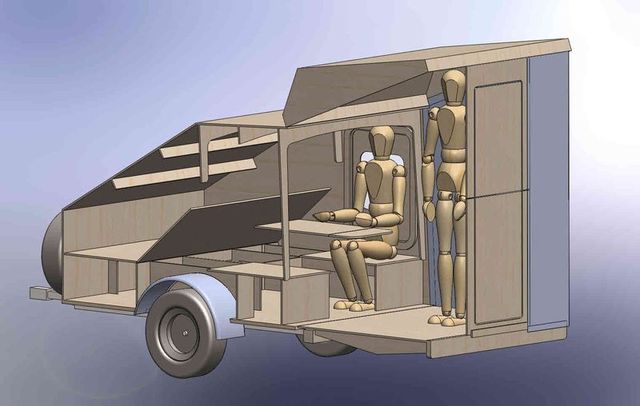 Left side section.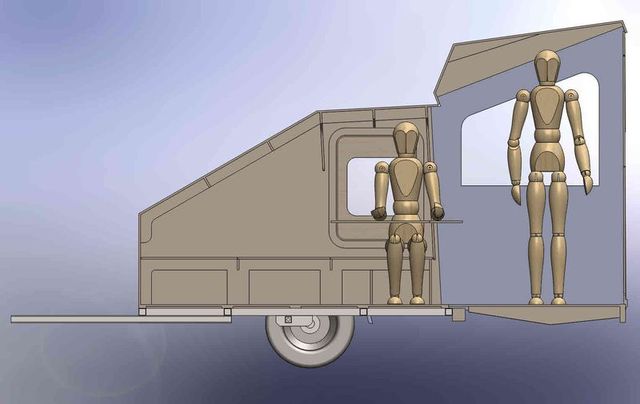 Right rear isometric in open position, left hand tent removed.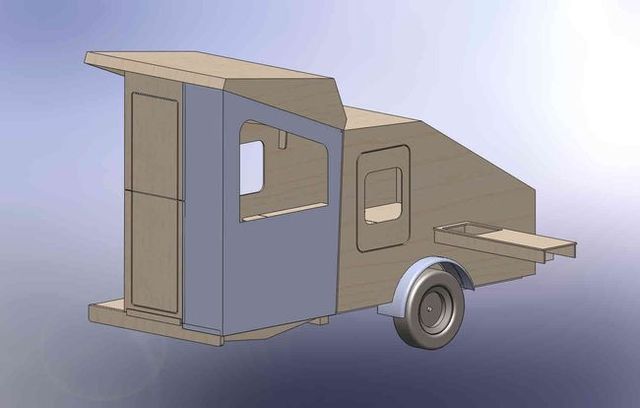 Right front isometric in closed position.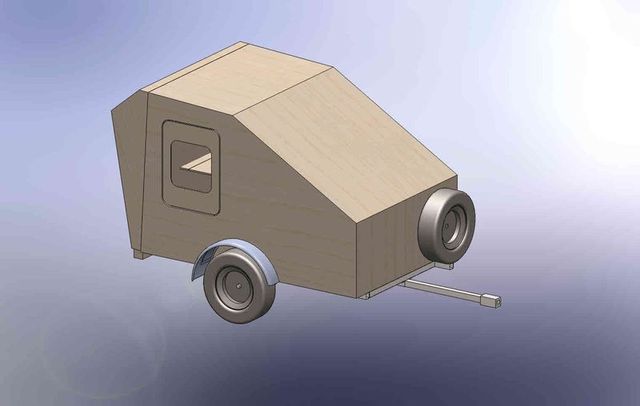 Left side section showing drop floor in raised position and lid closed.
I don't have a lot of shop space and was looking for a method that I could build quickly, spending more time at the computer designing and less time in the garage cutting and assembling. All the parts will be CNC cut out of 5' x 5' Baltic Birch plywood, It is like a large "flat pack" or "ready to assemble" piece of furniture. One of the main features of how it's constructed is the use of draw bolts and cross dowels to apply most of the clamping forces to glue up the box. After the glue has dried the bolts will be removed and replaced by glued in dowels.
This exploded view image shows how the unit will be constructed. I did this model to get the concept down and to be able to have prints for the CNC guys to quote from. I created a new model (all the other pictures) to work through all the details of space and ergonomics before I return to the model with all the individual parts. The overall concept is the same but some of the details have evolved, including the box joint which will now be half blind.
Exploded view of all plywood parts.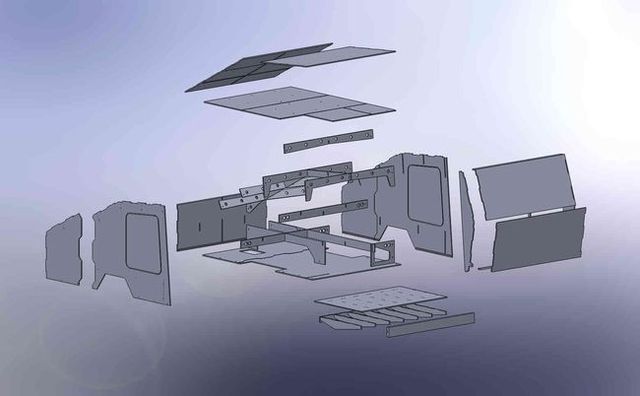 Typical method of construction and clamping.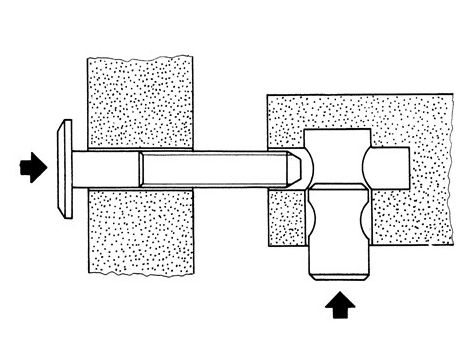 Some of the Spec's are:
850 Lbs dry weight.
Length: 11' overall, 96" box, 36" Tongue.
Width: 60" box, 68" w/ wheels.
Height: 72" overall, 56" box, 16" frame.
58" x 80" bed converts to seating for 2.
2" tube steel frame.
Dexter #9 Torflex 1200 LB Axle
14" wheels, 24" dia tires.
10 Gal fresh water.
75 AH Sealed LA Battery
You can download a 3D PDF from
THIS LINK
. The PDF will NOT open in a browser, but if you download it you can open it in Acrobat Reader and rotate the model to look around. The download button is in the black bar at the top of the page. Fair warning, it's a 17 MB file.
Any general feedback would be appreciated and there are a few things that I could use some advice on.
I'm still undecided about finish, epoxy resin or polyurethane. The plywood has a good face without footballs and a second face with footballs. It might be nice to show off the joinery and clear coat the outside.
If anyone has used a #9 Dexter torsion axle I'd like to get some specific measurements.
I'm thinking about using the Heng's 17511-G1 9" vent and was wondering if anyone has used this vent.
I'm hoping to work through the engineering this winter and get the axle and trailer put together in the spring, followed by the CNC cutting and assembly.
Thanks for looking, Mike