I recently stumbled upon this forum, while falling down one of the many rabbit holes of the internet, searching for trailer build info. Low and behold, y'all hold/share a wealth of great knowledge. So, i figured it would be worth hanging around a bit. I realize my setup may not exactly be a TT or TD but it shares a lot of the same features and maybe a few unique things as well. I am already in the planning phase of my next trailer build. It will be more adventure/expedition trailer like and a little less utility trailer as my current setup. That being said, here's a little info about myself and my current setup.
My Name is Chad and I reside in the Nashville, TN area. My wife and I are avid lovers of the great outdoors and have focused on making sure our 2yr old son has all the opportunities of learning and enjoying all things outdoors. We currently have a custom built (build still in progress) camping/expedition trailer with a rooftop tent. We've had a ton of fun traveling with this setup this year, I started the build around february. As a family we've spent close to 3 weeks in the setup, i'm a little over a month family + solo trips, and close to 5000 miles. Our primary tow vehicle is my wife's 2015 Jeep Wrangler Unlimited Rubicon. It's our second JKU and we love exploring and going off road with it.
Here's a few photo's I can share from my work computer. I'll post more details and pics when i have a little more time.
Where it all began, for me! This trailer was hand built by my grandfather some 35+ years ago. It's based on 2"x4"x.250" C channel steel for the frame and 2"x3"x.250" c channel for the uprights. The floor and side walls are all .250" plate aluminum. It's a tank! lol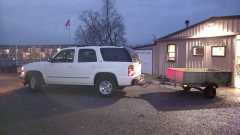 I have restored the majority of the trailer, still need to finish the underside. It now rolls on a new 265/75/16 tires, tahoe/silverado 16" wheels. dexter #3500 axle with electric brakes, manual parking brake and GM/toyota 6 lug hubs(will be changing to Jeep 5x5 at some point). Reworked/lengthened tongue with removable coupler, every bolt and nut has been replaced. All new electrical, custom made gas strut assisted telescoping rack for the RTT and awning, Custom fenders, BAL levelers for the rear, and I still have a lot left to do.. Sheww.. lol.
Current cofiguration
First trip out, back in march.
Summer trip to LBL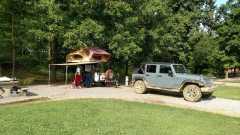 Summer trip to Colorado for the FJ summit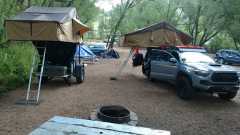 Ouray Colorado, my absolute favorite place i've ever been!