The names James Jameson but everyone calls me Kingston. (oddly kingston travels better when screamed across a 10,000 ft space).
jj style is the aesthetics of the diesel-based technology of the interwar period through to the 1950s with retro-futuristic technology and postmodern sensibilities.
I have a big workshop I share with a few realy good friends we tinker with all manner of motorised contraptions cars, trains, buses, fire engines, boats, but mostly cars.
based in the uk, at the moment but my work takes me all round Europe. I specialise in decorative coating with practical applications for instance take kerbstones, add mica result a defined road-edge with reflective properties and it looks pretty in the sun I also do a thing called hydrodipping.
been a lover of tiny trailers since I saw a 1959 pathe report, a little pop-up affair pulled behind a moped and side-car.
https://youtu.be/1VP1WnUw2T0
So a series of fortuitous events leave me with 2 qualified wood butchers for advice and help, room in the workshop and an internet connection.
I started to plan, research and look at what is available or possible, I liked the idea of a traditional tear shaped build then.
was realy turned off by the thought of the rear hatch, it was taking up way to much tinker time in my head.
Then I got realy inspired by the creations of Frank buchwald, Arrival in Utopia by Alexey Lipatov and the morse cab unit.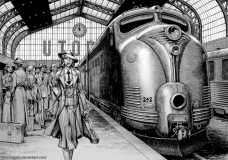 so with the help of sketchup... I have a sketchup.
a small stack of parts ready to be re-purposed.
my first batch of wood is ordered for delivery.
let the build commence.