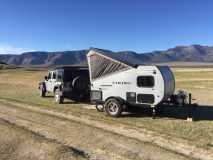 Greetings TNTTTers! Proud new owner of a 2020 Viking TD9.0 w/v-pkg checking in. This is a teardrop / tiny poptop hybrid that's powered with 110V (input & battery charger), 12V battery, and propane, is light (1200 lbs dry), easily fits in the garage, and includes nice features like city water hookup, 16gal water tank, 6gal water heater, on-demand water pump (w/sink & outdoor shower), furnace/heater, lighting, & bluetooth stereo. Also included were a fridge and A/C, which I removed because I don't see myself using those and to make room for some storage. I'm in the process of patching up the resulting holes (and also securing some loosely done wiring that was exposed after removing them).
The fridge was easy to remove, it was secured to the bottom from the inside with 2 wood screws that are easily accessible from the exterior when you remove the plastic covering behind the unit. The A/C wasn't as easy, so I thought I'd post some notes for any others who might encounter the same situation.
- The A/C itself is not bolted in place, but is held down by a metal band around the top of the unit. This band is secured to the bottom from the interior with 2 screws, but they're not accessible until after you remove the unit, so you basically have to wiggle and pull and slide the unit out from the exterior (at least that's how I did it).
- Note that the power cord on the front of the appliance (on the inside) also helps hold the unit in place with leverage, so you must first remove a small plastic piece holding the cord in its place of leverage for the unit to be free to pull out. This piece is easily visible and held in place by 2 small screws.
- After that, go back outside and use a flathead screwdriver from the bottom to help dislodge the unit and coax it on out.
- You'll also have to simultaneously hold the metal band in place to prevent it from grabbing hold of the top of the unit while you inch the A/C out (I did this using a long wrench, but any blunt-ended object that can fit in that narrow opening will work).
Looking forward to using this thing and for more projects and improvements on down the road...
Cheers
-Mike