Say goodbye to the old: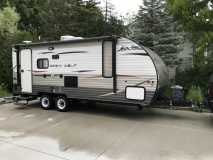 ..and hello to the new: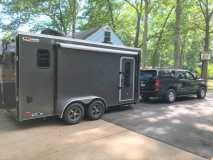 A little background: I do a lot of adventure and enduro/dual sport riding. I find tent camping on the adventure bike is pretty enjoyable and generally adds to the experience. However, after several years of tent camping at enduro and dual sport events I was ready for a toy hauler. Last year I sold my wife on the "RV" lifestyle and promptly found a 2015 Grey Wolf 19rr that fit both our needs. I really wanted the smaller single axle 18, however my wife was quick to point out that the 19 came with a vanity, LoL. So after owning the Grey Wolf for just over a year, I decided that it was just not me and sold it a couple of weeks ago. Part of me regrets parting with a perfectly good working trailer, while the other part of me is glad to be done with it, and the typical RV build construction.
I try to tell myself that I was going to get out of owning a camper and be done with the storage lot, etc. But the truth is, I had already eyed this beauty on CL and it was the final straw that prompted me to list the Grey Wolf. With a quick sale of the camper, and the cash just burning a hole in my pocket, I was heading west to "look" at this semi conversion. It wasn't perfect, and I probably shouldn't buy it, but two hours later it was hitched to my truck and I was heading east. The guy had done a really nice job in finishing the walls, adding a roof top A/C unit, awning, etc. All things I could have figured out, but really didn't want to. In not owning a welder the roof top A/C framing would have been a challenge.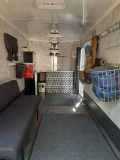 So it's possible I have a head start, but we'll see how "lucky" it is. I already found some wiring not to my liking and started the "destroying" process. It's not possible for me to leave well enough alone. So I have come up with a new floor plan.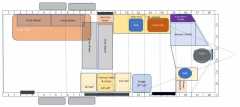 Hoping to get the fresh, grey and black water tanks installed this weekend. Along with some more wiring.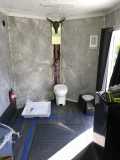 So with a lot inspiration from flyboy, chiefvintage, McDave, Karebru, ZColorado, and several others on this forum, I'm embarking on a journey that is quite frankly overwhelming. Wish me luck!
Oh, and for further inspiration, meet Ms. Maple who is convinced she's going wherever I am when I'm done with it.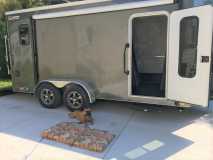 - Jeff from Michigan who will have a lot of questions.