I have been lurking and making a few comments for awhile, decided it was time to either build or get off the porta-potti. I hope that I put this in the proper place.
A little background- a couple of buddies and I have going fishing/camping for a long time. Usually, it is one of those "Thursday night calls", asking if you want to go fishing this weekend. Get home Friday night, throw the stuff in the truck and head out- the spot is about 100-200 miles away depending on where you live. Pull into the site, get ready to eat supper and find out that they thought you were bringing the plates, you assuming they were. We decided that we needed a big box/small trailer that we could just hitch up and go.
The road to perdition is paved with good intentions.

and starts at the front door of Harbor Freight.
It started with the tiny HF frame (38x48) and a box that fit on it. Nothing fancy, the painted plywood box was divided into a bottom which had a hatch on the back to put tents and long stuff in, and a top which was divided down the middle. Passenger side had a pullout counter for cooking, room to store equipment and supplies. Driver side folded out on steel cable to form work area, room for lanterns, fishing gear. I used window latches to hold the sides closed.Worked well for several years. When the amount of gear grew, we started to strap boxes to the roof. If I can find some pictures I will post them.
I am putting on my signal to pull onto the on-ramp of the road.
Then the next edition was on the same frame, but now its 4' wide, cut out over the fenders, and the original 4' long has now got a 18" modified V-nose projecting out over the tongue. The "nose-cone" has a side door, bracket for a 20# propane tank, shelves, pegboard on the inside of the door. All of it covered in vinyl laminate. Additional features such as a cube refrig, microwave, coffee maker, lights, built-in 25' retractable power cord, trailer dollies mounted on the back corners for leveling and stabilizing the trailer soon appeared. Cargo rails off of an S-10 pickup fastened themselves to the top where extra supplies started strapping themselves on for the ride. Mark II was starting to put on weight, good thing the trailer was rated for a little over 1000 lbs., bad thing was that my back wasn't.
Well, now I am at the top of the ramp merging into the traffic- sure a lot of funny little trailers on this road.
Well, I just cannot leave things alone. Last Labor Day, I bought a 6x10 Lark from a local dealer. The floor is 3/4 ply, 3/8 on the walls. Barn doors in the back, side door on passenger side. Okay, I got it, now what? Ask my friend, Google,"What's next?"
Google thinks about it, then says that I had to check out Don & Christi's 6x10 Cargo Conversion, oh, and make sure you browse through the rest of the Teardrop and Tiny Travel Trailer site.
Where is everybody going?, I better put the pedal to the metal!
I do not normally plan on sleeping inside, but I want to be able to in a pinch. The goal is more of a keeping things organized and keeping out of the weather at times. One constraint that I did have, was that the cargo trailer may actually have to (gasp!) be used as a trailer.
My fellow travelers like to look at pictures, but I think that you have probably seen enough bare plywood walls and floors.
There are three of us doing the work on the trailer-me, myself and I, and we spend a lot of time arguing

so things are going a little slow, with lots of "what was I thinking?!" moments.
Finally figured out what I was going to do. First thing is get some stabilizers for the trailer. Google tells me that there are adjustable ones on sale for $30, they are 13x20. Okay, I figure out that the 20 is how far down they will reach, but what is the 13? Turns out that is how long the shaft sticks out from the frame, at shin height

. Hacksaw and a little welding are in my future.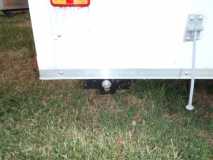 I got a good deal on some sheet vinyl for the floor, so I installed that using adhesive.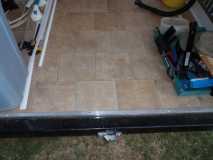 For the walls, I decided to float FRP panels with rivets. E-track would go on one side to hold tables, chairs, etc.,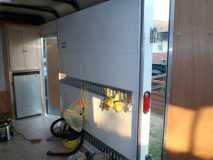 with adjustable shelves and baskets on the other side to hold my gear.I have several other shelves and a counter top to install.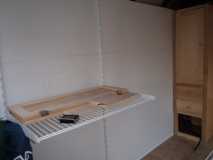 In order to simplify the wiring, I ordered a WFCO 8945 from ebay, decided to put it into a cabinet on one side, with outside outlets and a Marinco 20A shore power connector. The converter is what will go into the bottom of the cabinet in the picture above.
I decided on 2 columns, microwave in between and a counter underneath. I have never done any decent cabinet work, so I went to a place that sells cabinet doors for $5 each, any size, shape, finish or material. The owner also had 1/2' maple finish cabinet plywood for $12/sheet. The framing is all 1x2 poplar which I am going to paint a dark black-brown, just using clear wipe-on urethane for the maple doors. Started to use biscuits, decided life was too short and took the advice of others in the forum, used pocket screws.
The upper left cabinet will hold a pull-out pantry, the upper right, shelves for now, I plan on putting in pullout drawers.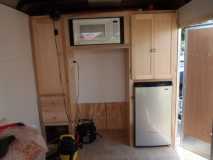 Got the microwave installed today.
I installed 120V/USB and 12V outlets under the microwave. I have a set of halogen lights which will also go under the microwave.
The columns are fixed in place, and are about 20" deep, flush with the edge of the side door. I am planning on making the center base 24" deep, adding drawers/baskets inside. Lately, there is an idea floating in the back of my mind- what if the center was interchangeable, and on rollers? One trip it could hold drawers, another trip, it could be exchanged for a cabinet with a built in sink, water reservoir and storage tank.
I just got the deck inspection plates, and a 5k air conditioner to make into a rig similar to the one Shadow Catcher showed.
The thing that I have not been able to visualize as yet is what to do with/to the ceiling.
So, that is the status at the moment, I am quite open to any suggestions, especially regarding the ceiling. The trailer is 6' tall inside, and I am a little over that.
Pat