Well here goes the first post in what will be our CT conversion story.
The base is a Lark 6 x 12 foot SA, 6.5 ft high with a deep vee front. It will be coming with barn doors at the rear and an RV door in the nose. It is not yet in our hands but the first component for the conversion is.
I'm going to see if I am forum literate and post an image I uploaded to the gallery here.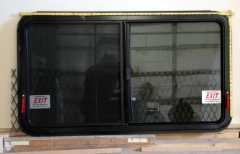 That is a 48 x 27 (RO measurements) RV egress window; horizontal slider with screen.
Whoo-hoo, it worked!!