It is time to catch up with our Teardrop Travels.
11 October 2012.
Our first trip.
The trip started off a bit hectic. We worked on the teardrop through to midnight, then had to tidy the place up a bit before we headed off to bed about 1.30AM. We were back up at 3.30AM, packed and on the road at 4.30AM.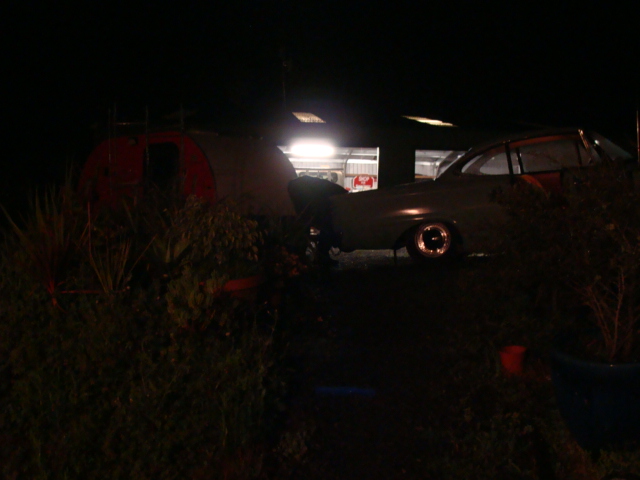 This was the first time in the thirty years that I owned the Capri that I have ever had anything hooked on the tow bar. As we headed out the gate my wife said that if we can get up the first hill we should be ok.
First stop was the Shell service station in Kamo (or Z (pronounced zed) as they have been rebranded in New Zealand). Then it was Wellington or bust 845kms (525mls) away, to catch the Ferry we had booked for the South Island early the next morning.
The Capri is fifty years old and the engine has always been a bit fumie, but the extra load of the TD meant that when we started climbing some of the bigger hills it got really bad. Called for winding down the windows to get rid of it. We had come this far we weren't giving up now. Next stop was Warkworth for a tinkle stop and check car and TD, both ok. Still dark so pressed on to Bombay (south of Auckland) and McDonalds for breakfast. Apart from the fumes, all was going well. The TD was towing like a dream and the car was doing the job well. It is only 1500cc but with seven gears in the box there is always the right one there. Next stop was Cambridge for fuel, and called into my cousins workshop for morning tea and another rest stop. From there we went to Kinloch on Lake Taupo for lunch with my niece and a couple of hours rest.
From Kinloch we headed down the east side of the lake and fuelled at Turangi before continuing down the Desert Road.
Here we are on the Desert Road with Mount Ruapehu in the background.
Next stop was Bulls and dinner at Subway then rolled in to Porirua for fuel, with only a dribble left in the tank, and finally arrived at the camp ground in Wellington at quarter to ten and fell into the TD for our first nights sleep in it. What bliss!