Okay, this is only barely cast iron, but I did cook the pancakes on my trusty Lodge griddle that I've had about 25 years.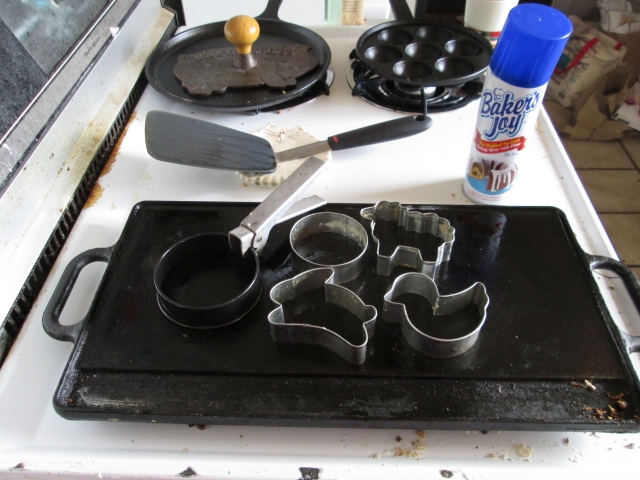 I have lots of cookie cutters, but I haven't made cut sugar cookies in way too long. But I make pancakes every weekend, so I pulled out the cookie cutters, preheated them to sizzling hot, sprayed with spray oil, and poured in the batter. When barely set, I pulled the cookie cutters off and let the pancakes set up just a bit more before turning. But the spray oil was not perfect, and I had to fiddle a bit to get the pancakes to release. Enter Baker's Ease, which is spray oil WITH flour, as is used in cake pans. That helps the pancakes release from the cookie cutters, but the pancakes singed a bit on the griddle, since I sprayed the cutters while on the griddle itself. Okay, next idea, spray the cutters, pour the batter, and as soon as the pancakes release from the griddle slide them to the center (between burners) where the surface is a bit cooler but still hot enough to set up the interior. Oh, do you notice my camp pot lifter? It works great for lifting the cookie cutters, and also my egg ring.
No, I'm not trying to be Martha Stewart, but sometimes I get tired of regular pancakes. I need to switch it up.


So here we have an upside down brown lamb (Nutella wool, of course), a ducky, a run-away bunny, and an egg. I did worry (momentarily) that my kids would reject my silliness as childish. Instead they both made sure they had one of each on their plates (twice, they came back for seconds!) and gobbled them down.
I love my kids, especially when they DON'T point out that I'm crazy.



Catherine