Shady Pineapple Dump Cake
Okay I need to stay away from the dollar store!! Buying dollar cake mix and cans of pie filling or canned fruit?? Shasta flavored soda??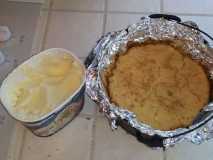 I can of pineapple rings, some rasins, some crushed walnuts, some brown sugar. Yellow cake mix, with the pinapple juice from the can and some pineapple soda. A little brown sugar on the top.


Yummie if you like pineapple dump cake???


So many combination to try , anyone do a chocolate cake mix??
Shady