Howdy everyone!!


Well here goes a recipe I borrowed from a fellow TNTTer who recommend we try a spice cake based dump.



Here are the ingredients the best my daughter and I remember them:

1. Shasta Root Beer
2. Betty Crocker Spice Cake mix - Extra Moist!!
3. Canned apple pie filling.
4. Raisins
5. Chopped walnuts
All into a foil lined DO. we did this on the Gas BBQ for about 40 minutes on low.

Now I must of tried to upload the pictures to my work 5 times, only one took.



So If I figure out how to get r done I will post a few more.


Click to supersize!!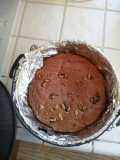 Goes great after church with a nice cold beer and a football game on!!