It's hard to find cast iron at yard sales and in the second hand stores in Los Alamos. The town was created out of whole cloth in 1942, and the fashion in kitchens was MODERN, and in camping was LIGHT WEIGHT. Not many people brought their classic cast iron with them when they moved here, as it was heavy and old-fashioned, and in the early days people thought they would be moving back home after the war, anyway. Santa Fe is just a bit better, but there people seem to hang on to their old cast iron more.
Yesterday, though, when I was dropping off outgrown kids clothes at one of the second hand stores, I found a thoroughly scoured (or never used, or cast aluminum) corn bread stick pan. I've wanted one for years, but since my kids aren't really fans of cornbread

I just couldn't justify a new one for myself. This one was 4 dollars, and I decided it was mine. I'll spend some time today seasoning it and make some cornbread sticks (and regular bread sticks for the little kill-joys) tomorrow with my white bean and chicos chile stew (it's vegetarian for Meatless Monday).
[img]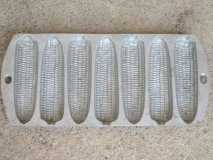 [/img]
[img]
[/img]
Oh, and The Town That Never Was
Catherine