bobhenry wrote:How about a cast iron turkey oven.........

Says it will hold up to a 20# bird.

We Hoosiers are about to find out! Our late October fall gathering will have a thanksgiving themed pot luck dinner.

I am looking forward to trying out this bad boy for the first time.

My thanks to Doug and Nan ( pigcooker ) for my new toy !
HERE IS THE UPDATE...
The fall Hoosier Tearjerker gathering had a thanksgiving pitch in dinner theme.
I put my new find to use and did a 14 pound bird. Pics in a minute.....
Used my gas stove grate with the flat bottomed oven to get room for the 15 coals down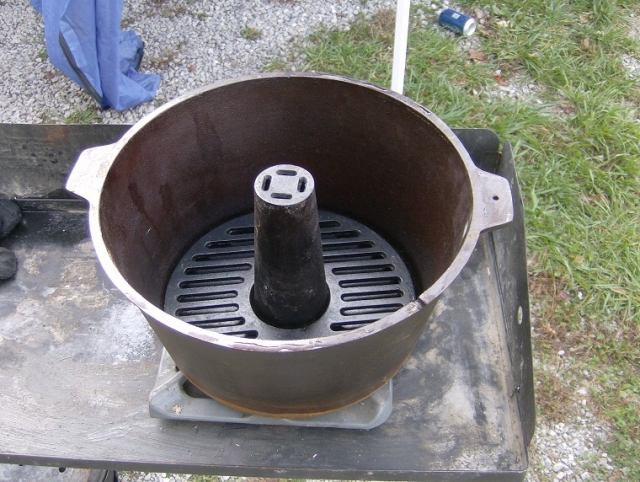 Ready for the bird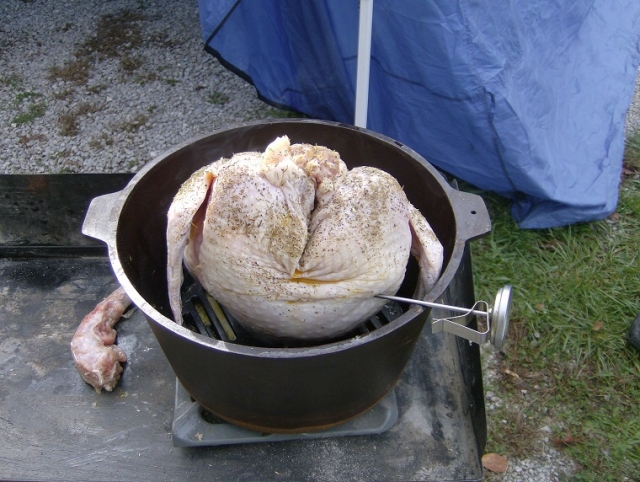 thermometer in place to monitor the progress
30 on top.
Had a tough time getting the 170 inner core temp so I dropped the monster pot on the campfire and dumped all 45 coals on the top at the last 1/2 hour.
The guest of honor ready for the pitch in.
Must have been good I had a tough time finding a nibble for the dog
It took from 11 am to 2 pm then gave it about an hours rest. I let it coast to allow it to slow cook just from the heat of the pot. At 3:00 I started a new ( 3rd) batch of 45 bricketts and cooked from 3 t0 4:30 The inner temp had been at 150 degrees since 2 pm but I couldn't reach the 170 I wanted. So at 4:30 I placed the oven over the campfire and dumped all 45 bricketts on the lid. About 15 minutes before the scheduled pot luck the bird finally reached 170 degrees. The oven directions says it needs a 28,000 btu heat source. That is difficult to produce with charcoal. I feel very confident that the 150 degree temp I had successfully reached with the 3rd charge would have been fine. However when you are cooking for a group I wanted to leave nothing to chance.