After several years of looking for a Griswold or other vintage cast iron aebelskiver pan at the thrift store, I finally broke down and bought a Lodge from KaTom:
https://www.katom.com/261-P7A3.html
It took me a while to get the confidence to fire 'er up and my first few batches were kind of a disaster, but I persevered and now it's my husband's favorite breakfast. Probably the pat of butter in each little well has something to do with that.... Anyway, I found a smaller pan (I think it's a "Norpro") at Goodwill that I thought would be the perfect size for the teardrop - and it is!
Here are the two pans, side-by-side for comparison: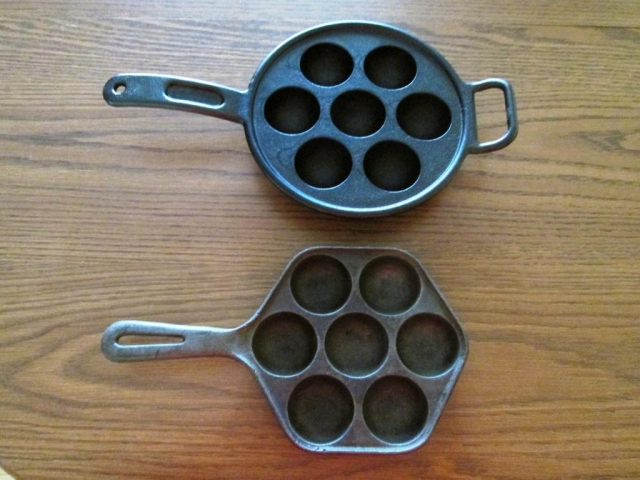 What I like: It's more compact than the Lodge and it weighs less, both pluses for the teardrop. And it's cast iron which I like more than aluminum.
What I don't like: I'm sure it's made in China...'nuff said. The wells on the thrift store pan are a little shallower than the Lodge so I end up having to make a "bonus" 1/2 batch. The heat isn't as well-distributed through the thrift store pan (hotter on the outside, cooler around the handle) as the Lodge. If you look at the bottom of the two pans, the well closest to the handle on the thrift store pan is an extension of the handle - probably why it doesn't want to heat up properly - the Lodge is a better design. The thrift store pan doesn't sit very well on my (Camp-Inn) stove - the ring around the outside wells on the Lodge helps to stabilize the pan and probably improves heat distribution, too. I'm willing to bet a Camp Chef (
http://www.campchef.com/cast-iron-gridd ... s-pan.html
), with it's (Griswold-style?) solid base, works even better. I just happened to have a steel heat diffuser (
https://www.nordicware.com/store/produc ... tion-plate
) with me - it definitely helped to balance the pan and I think it improved the heat distribution issues somewhat. I made sure to fill the well closest to the handle first and then flip it last.
Anyway, I got a lot of practice using my little pan on our last trip because every time I tried to make regular pancakes, it was a gooey mess - it was actually less frustrating for me to make the pancake balls....weird, right?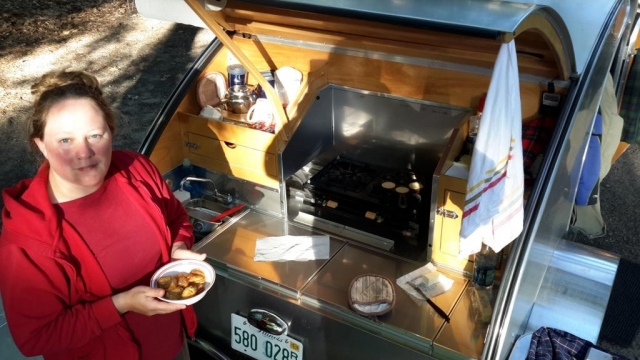 Tim puts (more) butter, powdered sugar, & maple syrup on his. I like mine plain. I'm still working on making them with a dollop of fruit inside - so far, it always ends up on the bottom of the pan and turns into a sticky, burned mess to clean up.
I'm still on the look-out for a Griswold pan - I figure, sooner or later, some grandma's weird-o pan will end up at the local thrift store...maybe...more likely on Goodwill.com....I really need to go to more garage sales!
Here's Rachael Ray (exuberantly) making aebelskivers on her TV show:
http://www.rachaelrayshow.com/recipe/15 ... _Pancakes/