Hmmm...not sure how feasible it would be to break it down in small enough pieces to fit in a teardrop. I've designed my pedal car so I can easily take the roof off -- just the material and/or the whole frame. This would allow it to fit in my minivan if I folded down all the van seats.
You could easily design it to roughly come in half by using screws in the middle-ish joints instead of gluing. A lot of the joints on this pedal car use screws instead of or in addition to glue. You would have to take off the chain, but that's easy enough, however the brake and gear cables might pose a bit of a problem. If you build the Sidekick model with the metal rails, you'd have to factor in what to do with two 7-feet-long fence railings. Some parts of the design actually drill into/through the fence railings (specifically the rear "axles"), so you'd have to allow these fence railings to be loose in the bottom rail pipes of your pedal car design.
I know that when building my pedal car I made minor modifications and enhancements that help hold it together even better than the original design. I would think that designing it to pull apart into multiple pieces would end up making it a loss less stable/durable, but that's just my opinion. There are a lot more skilled fabricators/designers on this forum than me!
I would recommend pursuing something like this instead: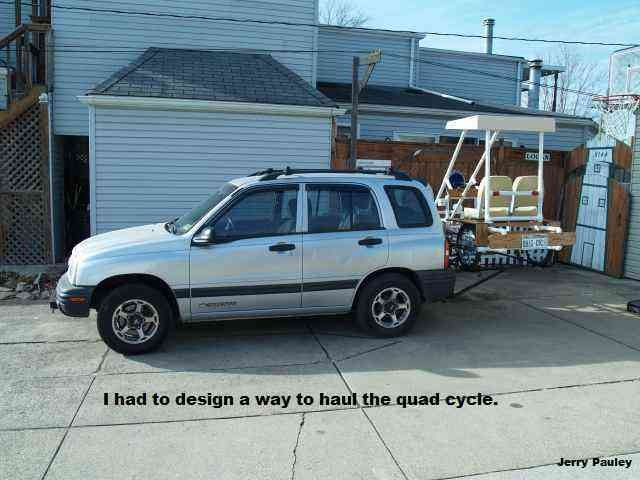 This gentleman built a hitch mounted carrier for his pedal car (and his pedal car is pretty heavy with all wood bumpers, fenders, etc.). Not sure if you could rig a platform like this on the front or rear of your teardrop or if there would be room for this type of carrier by way of a hitch doubler, etc.
Another thing I've seen a picture of on the internet (but can't find it now) is a PVC pedal car stowed on a double bike roof rack for transport. Two adults could easily lift a normal design of this pedal car (mine is a little heavier) and there are lighter weight models if the riders are smaller people. You can also put it on the roof of your vehicle by rolling it up the back so you're only lifting about half the weight.
I just recently picked up a folding Harbor Freight utility trailer for the primary purpose of towing my pedal car around to nearby cities for day cruises. I'll also bring it camping with me this way, depending on the whether or not the campground has paved roads. I realize that's not possible for you when you're already towing a teardrop, but I thought I'd mention it.