Hi, all. Here are some pics of an old ross Barracuda bike I just rebuilt into a sort of old hot rod style cruiser for leisureky rides around my home town. The bike dates back to the 1960's or early 70's, and was rescued from an old stone quarry near my home, where people used to throw old bikes, stoves refrigerators, etc. before it was filled in. My son dragged it home in about 1993. It had a badly twisted rear rim, which I straightened out enough to make it rideable. My sons rode it for a while, then it spent
the last 15 years in our basement. I dug it out and rebuilt it into an early hot rod style machine. It was a three speed, but I got a coaster brake rear wheel and made it a one speed for simplicity. The only purchased items were a set of whitewall tires and tubes, handlegrips, pedals, and some paint. The seat was from another junker, and I recovered it in red vinyl, but it's not a good job. I plan to buy a new seat for it. I changed the front sprocket from 44 teeth to a 36 tooth one to make it a bit more rideable on hills. I'm having fun riding it around town!
Here's what I started with.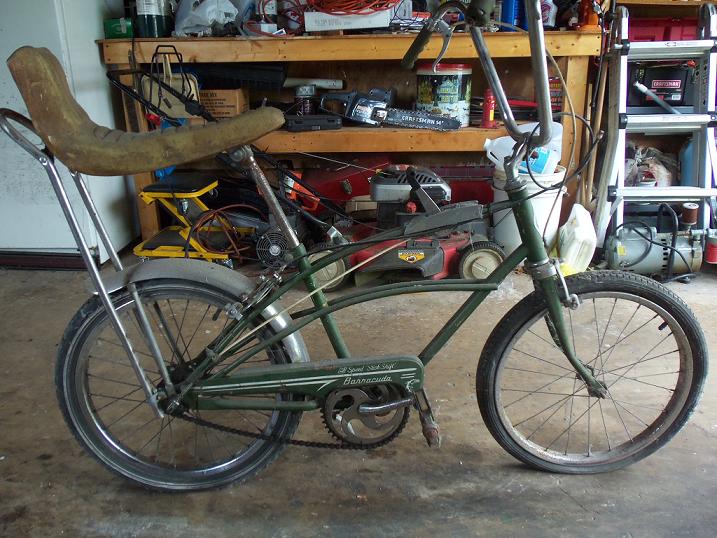 Here's how it looks now.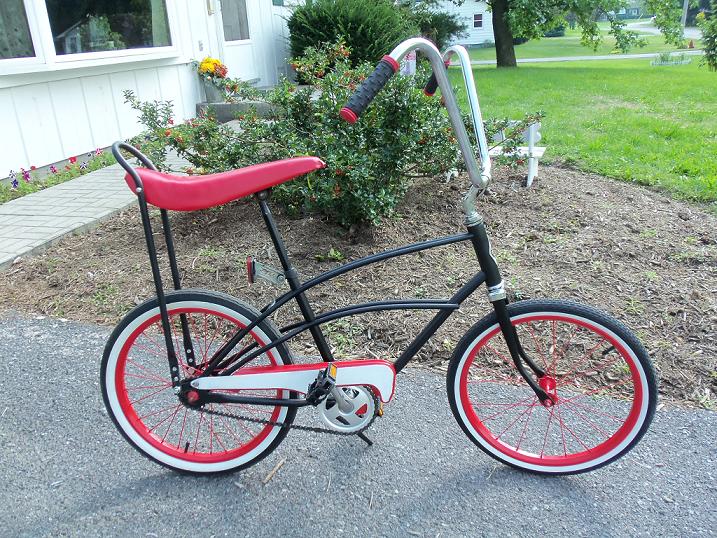 BTW, I had a Barracuda much like this one in the 1960's - couldn't afford a Schwinn Stingray. The 'Cuda was cheaper!