My beloved cattle dog passed in Jan of cancer. She was about to turn 9. Ocoee was a great dog and it's tuff losing such a fun and loving dog.
My house has been too quiet, and too sad. I started looking for a pup and this time I chose a Puddin Jack Russell Terrier. Puddin Jacks, also known as shorties, are great companions and have really nice temperaments.
So meet Paddy............here's she's pictured at 10 weeks. She's now 15 weeks and a blast. It sure is nice having a dog in the house again.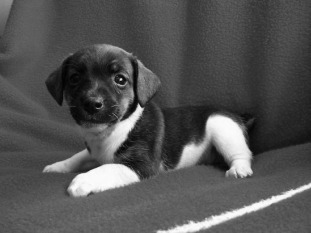 I think I'm going to stencil, in green, Paddy Waggin, on the td bumper.
Barb