Bingo. This as is currently listed on EBay.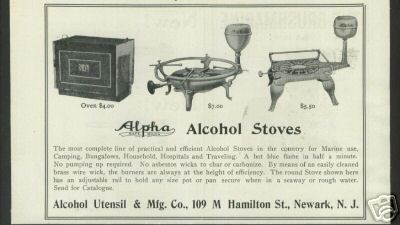 The logo is exactly the same. This is absolutely the only reference I have found. Still not sure if alcohol is the fuel or something else. The stoves in the 1911 ad look more ornate/Victorian than mine. They also mention a "brass wick." So I'm guessing mine is newer, having a generator and looking more utilitarian.
It is gravity feed, Doug. The only challenge will be getting the generator apart and somehow salvaging the needle and getting a functional knob on it.
Eric