I'm pleased as punch!
As many of you know from watching my Poet Creek build thread, and my comments on Coleman Keepers Campfire, I am concentrating on the TD build (trying to get something accomplished each and every day...pray I can be campable in time) and hoping that some pressurized white gas appliances will find there way to me.
Kirk (Campmaster-K), Maureen, and my local friend and coworker Larry have all graciously agreed to be on the look out for me (a heart felt thank you to "my pickers").
Well, Larry came through in a big way today.
Hardly used, Model 275A Turd, in the original box with 4 mantles and instruction pamphlet.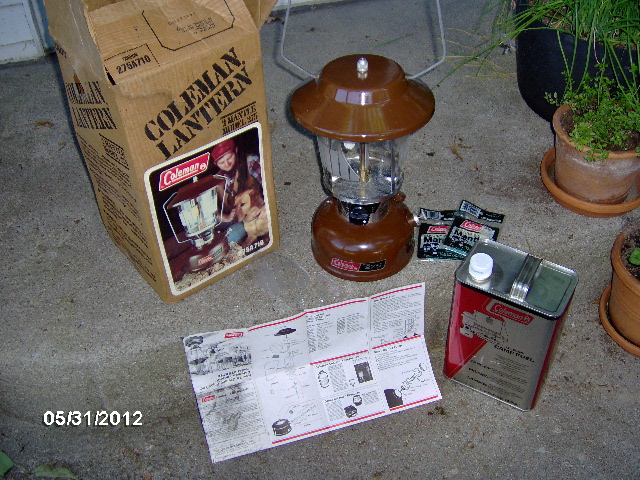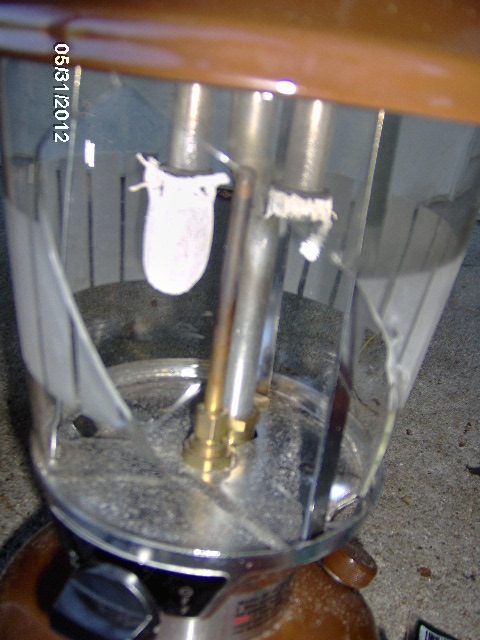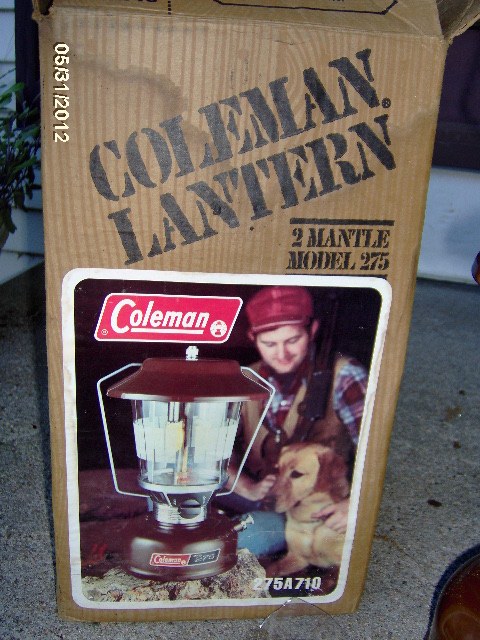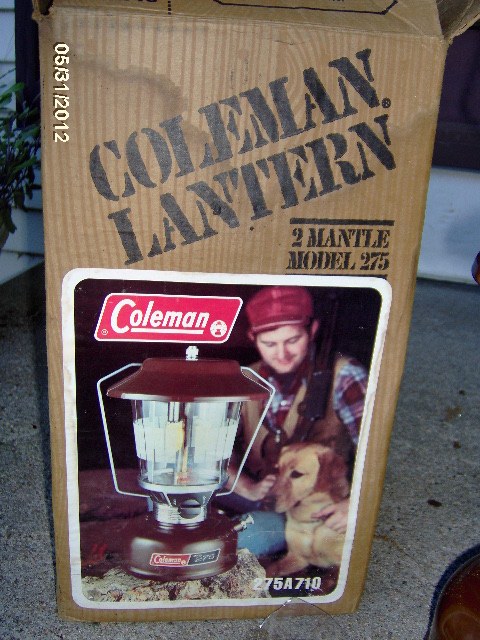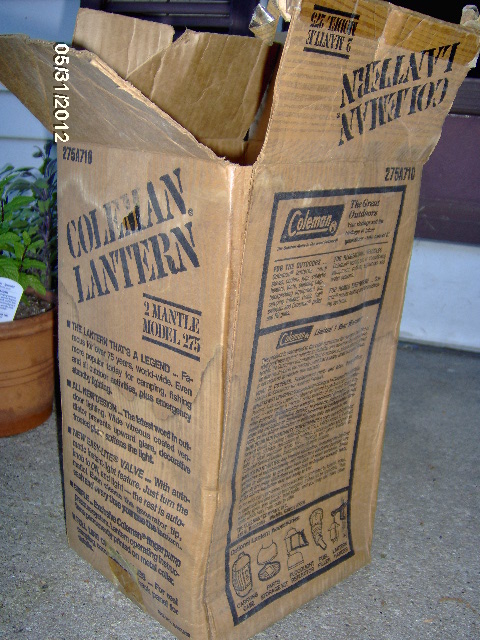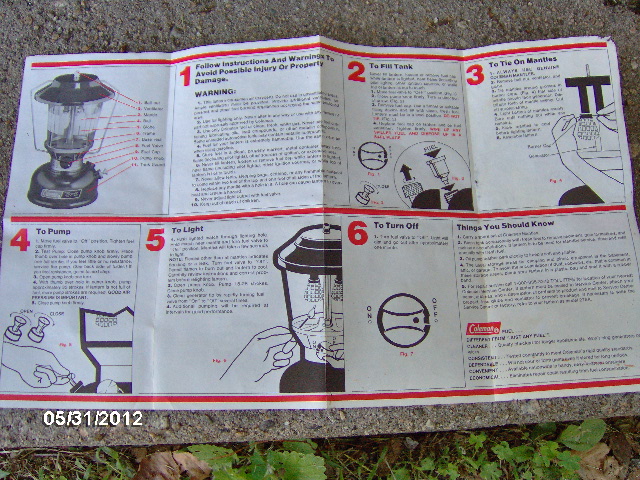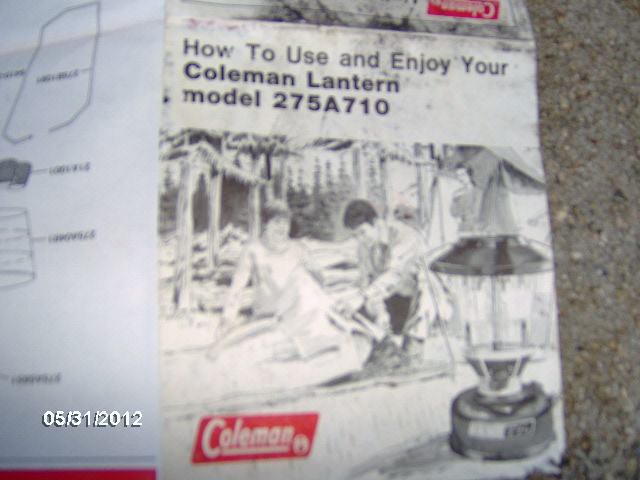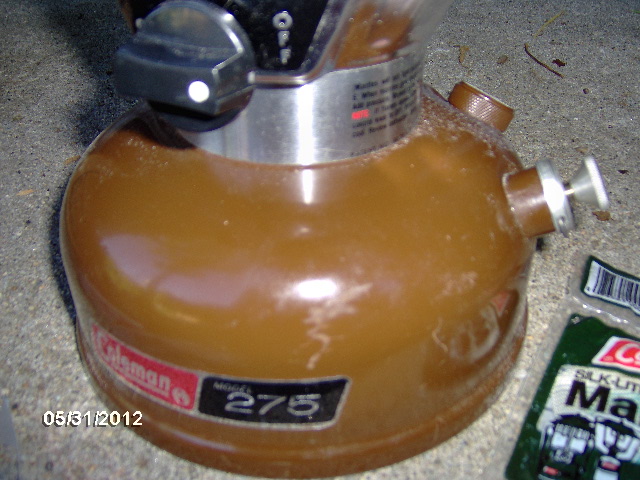 The previous image doesn't actually show all of the soot, but it wasn't bad at all.
The tapered half frosted/striped globe is broken, the box is a little crinkly and has a some moisture staining, and the pamphlet has some dark smudges on the back panel, but otherwise it seems pretty cherry so far. Slight scuff in the paint on the fount just over the "5" in the "275", and there's a couple of very small dents in the top of the hat that look like someone was not super careful about aligning the top stud when putting the hat back on, but you can't even see those in the pic's so I guess they aren't really there. It's the later 275 with the "ON/Off" knob.
I have already begun looking for a replacement globe and have at least one source
http://www.oldcolemanparts.com/product.php?productid=206&cat=32&page=4
($35+$5 special handling fee), but I am hoping to do better. The clear ones are available cheap.
From what I can recall this is just like the one dad had, except his was the dark green color and had the clear globe. Maybe his fount was taller and not so big around, but that is probably my mind playing tricks on me. I am almost 100% sure that dad's was a one piece hat, so...
The address printed on the box top says,
1542239-1 PO
ARK SURPLUS
1351 SOUTH GRATIOT
MT CLEMENS, MI 48043
Says "275A710" on each side of the box and "Model 275A710" on the pamphlet. I am assuming that the 710 suffix means the trim option (brown color and stripe frosted globe).
In ball point pen on the box top it's marked "31
98
", which I take to be the original sales price.
Now here's the kicker. When I asked Larry how much I owed him, he told me a little story. Found it at a yard sale, guy wanted 50 cents. Larry bundled it with a like new offshore made 4-1/2 inch grinder w/ wire wheel and some abrasive disks (also asking 50 cents) for the grand sum total of... get this, 50 cents.
Larry, of course, would not take the quarter, but I plan on bringing in a dozen dough nuts, and that will make him happy!
Now a question, is it correct to call this a Big Hat (even though I am assuming that all 275/275A's had this single piece stamping style big hat) or is that description reserved for the earlier styles that were available in either configuration?
Picked up a gallon of the juice on the way home. Once home I pulled the pump and massaged in a couple or three drops of light machine oil (3 in 1) and smeared a bit more into the pump cylinder with my finger. Pumped right up. The fuel cap seal is fine and the fount was dry inside with an even brown tinge color throughout.
I gave it a wipe down to clean off the disintegrated mantle dust, and a bit of the soot, tied on a couple of the mantles that came with it and toasted them up.
At this point I wished I hadn't done the mantles just yet, because I had intended to slosh some fuel around in it. So I put a bit of juice in using the funnel I got previously (with coffee filter in place of the gennie cloth filter insert).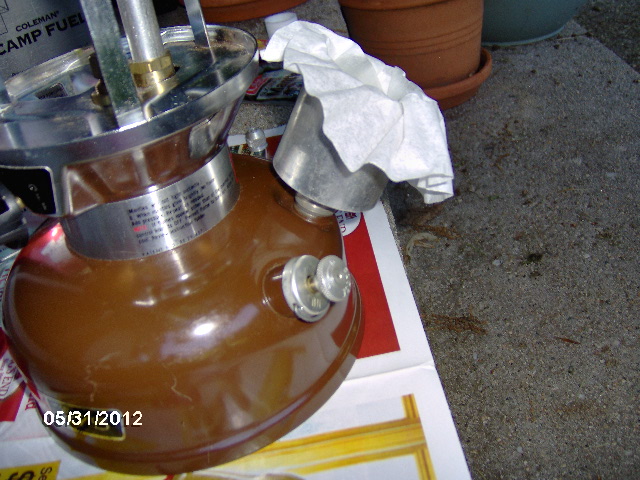 Sloshed it around and poured it back through the filter funnel into a pie tin. Inspection found no particles or discoloration, so the fuel got poured back in, and topped up.
First light.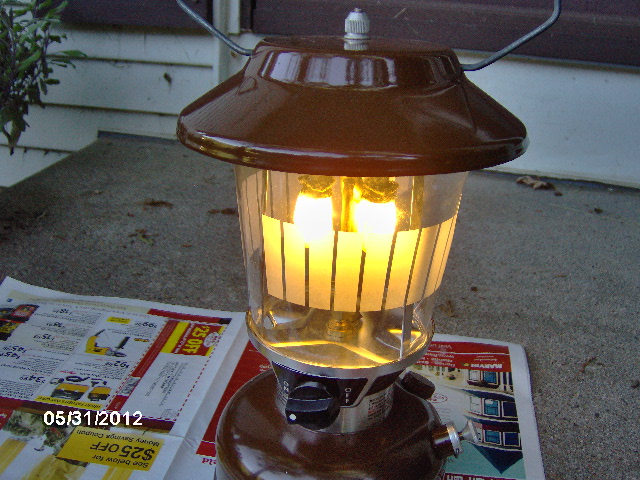 Lots of little holes in both mantles, probably from me shaking them around while sloshing fuel pre light up.
No big deal, I'm tickled pink! (er...brown)