First a turd, now a vintage 228E.
Found this on my desk this morning. 228E stamped 4-54.
Came with 4 packs of mantles priced at $0.39 a pair (not sure if these are old or new, but at that price I'm thinking older, rather than new).
My picker buddy Larry picked it up at a yard sale for me over the weekend for $5.
The hat is a bit lighter color green than the font.
The globe is etched "Heat Resistant" and "Made in USA", but for the year I would have thought that it would have had the sunrise Coleman etchings, so I am thinking that it is a replacement (I'm no expert...nearly a total novice).
The fuel cap has a slotted round head screw holding a tapered bung and what looks like a grooved brass ring with no gasket (shown here sitting in the underside of the hat before I wiped most of the soot out).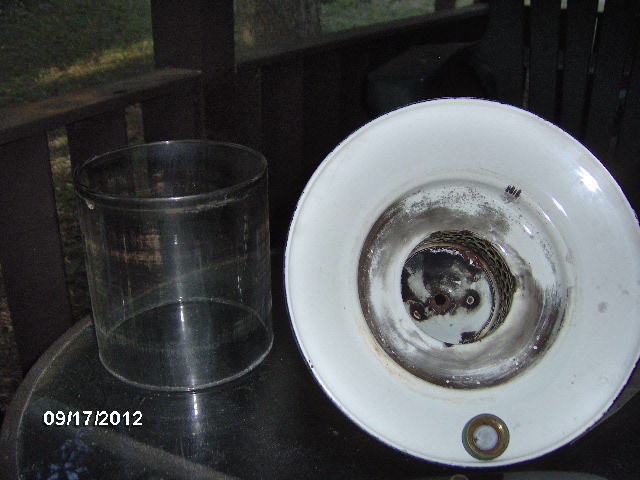 I'm wondering if there is supposed to be a gasket or o-ring, or if this is intended to be a "hard seat" seal (i.e. brass cap insert directly on steel font boss). Here's a crappy close-up.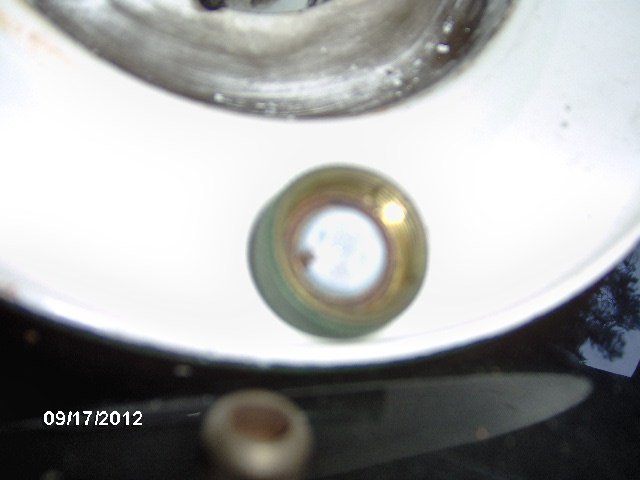 The fill port on the font has rust inside, a few rust flakes dropped out of the dry tank when I tipped it over (need to do the BB shuuka shuuka thing). Do I need to take the works out before shuuka shuuka, or is it okay to do with it assembled? Crappy pic of rust in fill port.
The upper portion is a bit crusty, but nothing too bad.
Here I am using a damp paper towel with a drop of dish soap putting some elbow grease into removing soot from the globe. Pay no attention to the icy cold beverage.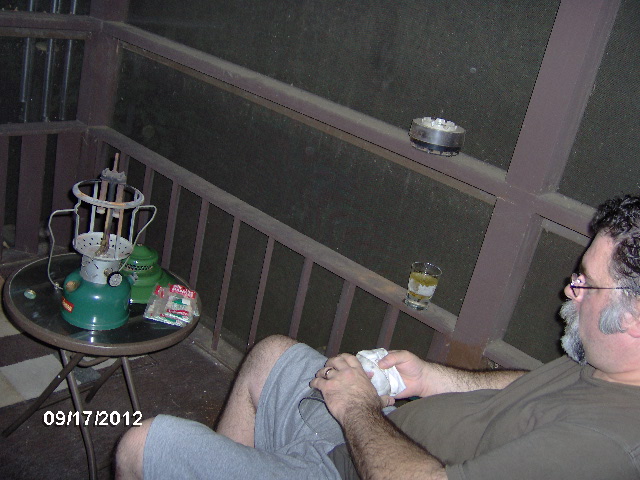 The saucer looking thing up above my drink is one of those "vintage" fan powered ash tray deals that my wife keeps around as a gag trip down memory lane for when her family visits; several of them smoke.
Here she is just sort of wiped down and cleaned up without any serious disassembly.
Now here is the rub. Neither the fuel knob or the cleaner rod turn, even with considerable hand force. My next move will be to use a tube fitting wrench and attempt to loosen the packing nuts on these shafts, but I am wondering if there is some other trick that I should use to free these up without damaging them. Maybe a shot of penetrating oil? I'm hopeful that these are all pretty typical conditions that can easily be remedied w/o too much effort or disassembly. I'm a little afraid that I will do more damage than good if I try to take it down to parade rest.
The hat does have some damage, a few chips in the enamel on top, and some flaking and areas of rust in the perforated area, but I assume these are typical for a lantern of this vintage.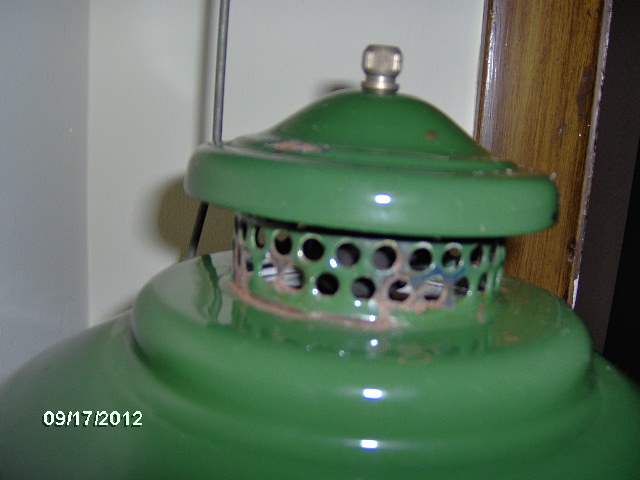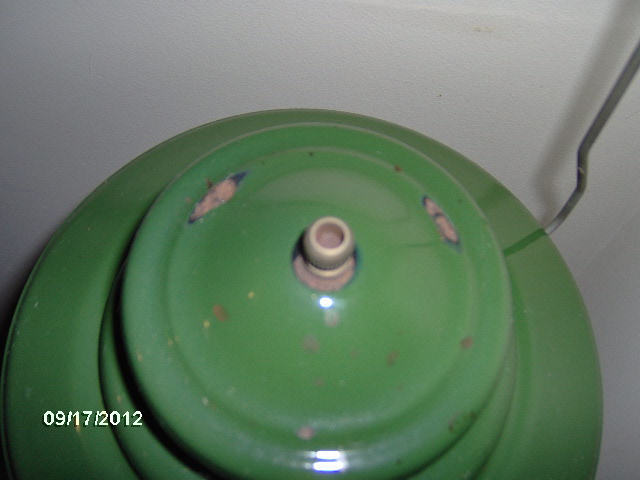 I would like to just get it working reliably and make it a user, so would like to avoid a serious renovation or polishing at this time.
The pump wheezes a bit and doesn't build pressure (although if pumped while closed it has heavy resistance...not sure if that means anything). I tried just dribbling some mineral oil down the pump, but that didn't do it, so I will disassemble, lube and massage the pump cup seal.
I have never taken one of these down past removing the pump for service, and removing the globe and hat to give it a wipe and new mantles. I am mechanically handy, so any advice would be gratefully welcome.
Thanks.