Hi everyone!!
Here is the little red single mantle I got from my stepfather and he thinks it was his fathers...not sure but could of been his uncles. It also came with a beautiful 426d in box three burner.

The lantern has original box and original glass. I will shoot some daytime pictures of both the Red and the stove later today.
The date stamp says 7 - 55 and it has nor dings or scratches...it does have the chip on top of the ventilator from the nut. Otherwise a really nice unmolested 200A. I did change out the generator and oiled up the leather. Replaced the gasket.

I had the Hodderville guys up in Shasta give it a once over look to see if she was a keeper(Lee).

Here are the light up pictures...hope this give me permission to join the club??
More pictures coming.

Shady
aka Dave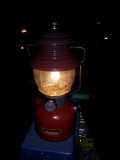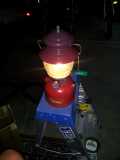 Globe has original sunrise on it.
Click on picture for a larger view.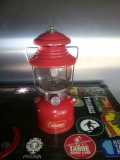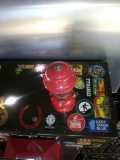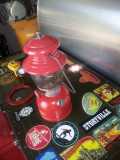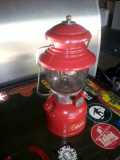 What do you guys think now with the daytime pictures??